Congratulations Denise Dunning Award Winners!
Each year at the annual Nevada Cancer Control Summit we are lucky to be able to honor the organizations and individuals in Nevada who have exemplified the essence of passion and leadership in cancer control in their respective community, region, or statewide. The Denise Dunning Awards are given in memory of Denise Faye Dunning, whose passion and leadership was crucial to advancing cancer prevention, control, and treatment in Nevada. As the State Comprehensive Cancer Control Coordinator, Ms. Dunning was dedicated to the Coalition and its work until cancer took her life in 2011.
At this year's Summit five colleagues were recognized with the Denise Dunning Award as well as a certificate from United States Senator Harry Reid for their exemplary work. The Nevada Cancer Coalition, in partnership with the State of Nevada and Senator Reid's office, is proud to have presented the following awards…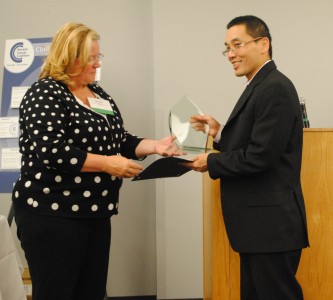 Our Patient Champion Award went to Dr. Tam Nguyen in recognition of his dedication to compassionate cancer care for all people. A Board Certified Radiation Oncologist with 21st Century Oncology in Las Vegas, Dr. Nguyen has been practicing in both Henderson and Las Vegas for over 14 years and working in the healthcare industry for close to 20 years. The focus of Dr. Nguyen and all physicians in his practice is to treat each patient whether insured, uninsured or under-insured with the same focus of delivering high quality, cost-effective patient care in a personal and convenient setting. His colleague Sara Costanza says, "Patients and their caregivers appreciate his soft-spoken yet knowledgeable demeanor. He is truly a very gentle and kind-hearted physician who understands the needs of his patients. In a town where its inhabitants come and go, Dr. Nguyen has been a tremendous constant in the cancer community, always available to provide compassionate cancer care to anyone who walks through his doors."
We were honored to present the Excellence in Advocacy Award to two very dedicated advocates.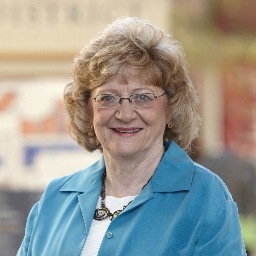 The first Excellence in Advocacy Award was presented to Senator Joyce Woodhouse in recognition of her leadership and dedication to championing policies to reduce the burden of cancer in Nevada. Coalition Board Member and Nevada Government Relations Director for the American Cancer Society Cancer Action Network, Tom McCoy, recalls approaching the Nevada State Senator from Senate District 5 to introduce a bill to prohibit minors' access to tanning beds. The newly elected Clark County legislator at that time was down to her last Bill Draft Request - but she made a personal commitment to introduce legislation on an issue that in the end had failed not once, not twice – but three times in the 2007, 2009, and 2011 sessions. Senate Bill 267 – the indoor tanning bill – was introduced once again by Senator Woodhouse in the 2013 session with many nay-sayers predicting yet another defeat. However, Senator Woodhouse personally changed the hearts and minds of many legislators and built a strong case for its passage. SB267 was signed into law in June 2013. Senator Woodhouse also lent her support in the 2013 session to Senate Bill 266, an oral chemo parity bill that was a priority for the Coalition and will increase access to oral cancer medications for Nevadans starting in 2015.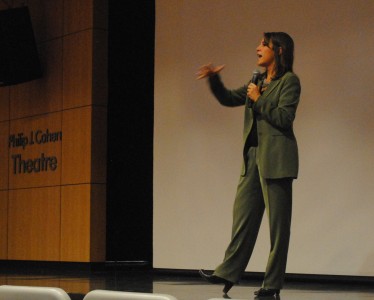 Our second Excellence in Advocacy Award was presented to Stacey Escalante in recognition of sharing her journey and championing policies to prevent cancer. Stacey, a stage 3 melanoma survivor, shared with the world her very personal experience fighting this deadly cancer. This amazing woman, mom, professional and athlete – continues her brave quest as a public speaker presenting on the dangers of tanning. Stacey is an advocate – testifying at each and every legislative session during which Senator Woodhouse introduced the tanning bill. Stacey never gave up and became the face of the 'tan ban' effort to many legislators – sharing her dramatic, graphic video of going through cancer treatment and telling her story. When the Nevada legislature finally approved the bill and Governor Sandoval signed it into law - Nevada became just the fourth state in the country to prohibit minors' access to tanning beds. And much of the credit for that cancer fighting law belongs to someone who chose to do more than win her own battle with cancer… she took her fight against cancer to the legislature so that your children and Nevada's children for years to come won't have to hear the words "You have cancer" – from indoor tanning.
Our fourth award, the Denise Dunning Award, recognized the vision, leadership and dedication to comprehensive cancer control of Carla Brutico. Carla spent three decades as an Oncology Nurse, several years managing a Cancer Center, and was active locally and nationally in nursing organizations, only to retire and continue volunteering in the cancer field as a volunteer and board member of the Nevada Cancer Coalition. She was a key contributor to the planning and development of the current Nevada Comprehensive Cancer Control Plan, a leader in the statewide volunteer structure of the American Cancer Society Cancer Action Network in Nevada, and the go-to person for state and national lobbyists and representatives of pharmaceutical companies on the issue of leveling the 'paying' field of IV and Oral chemotherapy. She testified on the first attempt for an Oral Chemotherapy Parity bill in 2009 that never made it out of committee, and undoubtedly, she was the only one in the room that understood the issue first hand.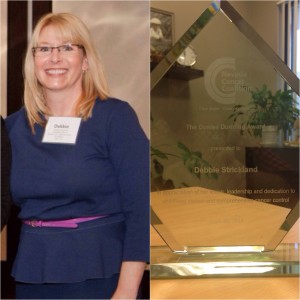 Our final Denise Dunning Award honored Debbie Strickland, past chairperson of NCC and executive director of Northern Nevada Children's Cancer Foundation. Debbie's brilliant vision and energizing and passionate leadership and dedication to not only childhood cancer, but cancer control for our entire state is an inspiration. A childhood cancer advocate for many years, Debbie is the force behind many childhood cancer efforts not only in northern Nevada, but ensuring that childhood cancer has a voice across our state. As the Nevada Cancer Coalition was rebuilding in 2011, Debbie was asked to take on the next year as Chair in the midst of it all. And we didn't let her go as she served again in 2013, taking us through our long and challenging quest to become a 501c3 organization. We cannot thank her enough for her leadership through those past two years. Her ability to bring people together, do more with less, and grow an organization is outstanding.
Congratulations to all of our Denise Dunning Award winners! We are honored to be able to work with you!