Nevada Cancer Control Summit
September 13, 2022 in Reno
Early Bird Registration Closes August 15! Register at the tab below.
Hosted by Nevada Cancer Coalition, the Nevada Cancer Control Summit is a statewide conference featuring sessions on targeted topics across the cancer spectrum. The Summit brings together physicians, nurses, advocates, survivors, administrators, and more to share cutting-edge information, update practitioners on the latest topics in cancer care, and strengthen the coalition to further cancer control efforts in Nevada.
The Summit offers continuing education credits for physicians, nurses, cancer registry professionals, and oftentimes credits for other specialty areas.
Special Thanks to our Summit Support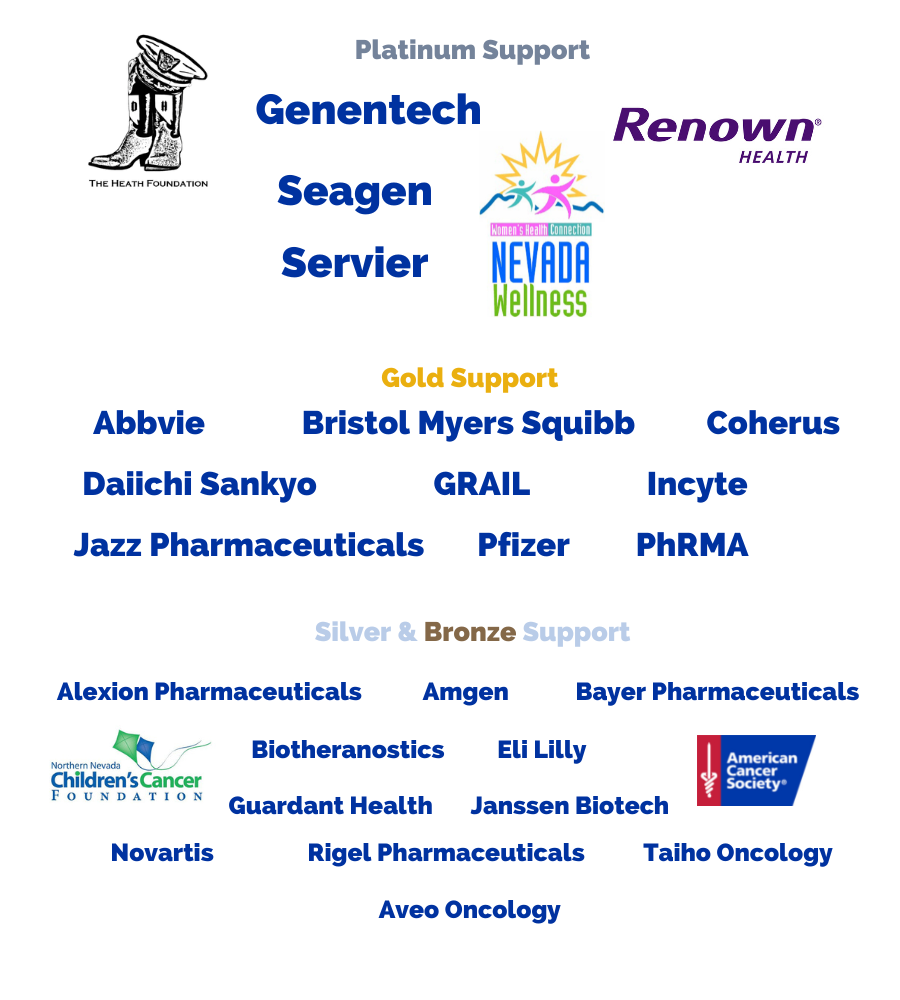 ATTENDEE REGISTRATION
AGENDA & SPEAKERS
2022 Agenda
Please note, this agenda is still in draft. Topic names are subject to change. Speakers are still being confirmed.
8:30 - 9:15 a.m. Cancer In Nevada: Where are we?
Dr. Lisa Richardson, MD, MPH, Director, CDC Division of Cancer Prevention and Control 
In this session we'll look at current cancer incidence and mortality in Nevada, disparities, barriers, impacts of COVID-19, current screening guidelines, and more.
9:15 - 10 a.m. Precision Oncology: Delivering Exact and Reliable Cancer Care
Dr. Lee Schwartzberg, Renown Institute for Cancer
10 - 10:30 a.m. Break & Exhibits
10:30 - 11:15 a.m. What's New in Treatment of Myeloma
Dr. Mehrdad Abedi, Professor, Hematology/Oncology, U.C. Davis Health System
11:15 a.m. - 12 p.m. Practice Improvement: Expanding the Support Team to Increase Capacity
Katherine M. Salkanovic, MBA-HM, CPXP, Cure 4 The Kids
In this session we'll look at how adding patient support staff can help to improve patient-provider communication, enhance patient compliance, reduce patient anxiety and stress, and free up time for high- and mid-level providers to treat patients. 
12 - 1:30 p.m. Lunch, Exhibits & Awards
1:30 - 2:45 p.m. Panel Discussion: Educating and Retaining a Cancer Careforce
We'll facilitate a discussion with leaders from Nevada's medical and nursing schools to learn what schools are doing to help fill the education and workforce pipeline and how Nevada's healthcare providers and stakeholders can help to retain newly trained workers.
2:45 - 3 p.m. Break & Exhibits
3 - 3:45 p.m. Cell/Immune and Transplant Therapy for High Risk Acute Lymphoblastic Leukemia—Guiding Therapies with Next-Generation Sequence-MRD,
Dr.  Michael A. Pulsipher, Professor of Pediatrics; Division Chief, Pediatric Hematology and Oncology; Director, Children's and Adolescent Cancer Initiative at Huntsman Cancer Institute and Intermountain Primary Children's Hospital 
3:45 - 4:15 p.m. Nevada Lung Cancer Screening: How We Are Failing and How We Can Fix It, part 1
Dr. Chivonne Harrigal
This two-part session, offered in response to community demand, will look at the current state of lung cancer screening in Nevada, why lung cancer screening works, challenges to lung cancer screening, and access concerns.
4:15 - 5 p.m. Nevada Lung Cancer Screening: How We Are Failing and How We Can Fix It, part 2
Angela Criswell, MA, Associate Director of Quality Screening & Program Initiatives, GO2 Foundation For Lung Cancer
In part two of this session, we'll learn from a successful, evidence-based lung cancer screening program how to improve lung cancer screening rates and reduce mortality and morbidity from the disease, and discuss current collaborations and initiatives in Nevada that can move us forward in improving lung cancer screening in our state.
CME/CE INFORMATION
The University of Nevada, Reno School of Medicine approves continuing education credit for the Nevada Cancer Control Summit. Details will be posted here once CE/CME is approved.
VENUE INFORMATION
 Whitney Peak Hotel
255 N. Virginia Street
Reno, Nevada 89501
Nevada Cancer Coalition has secured a room block for Monday, Sept. 12, 2022 at $135.
The room rate does not include the current tax of 13.5%. All paid occupied rooms are subject to a $2 tourism surcharge.
 
For reservations, please call 775-398-5400. Rooms must be booked by Aug. 15, 2022.
Learn more about Whitney Peak Hotel.
2022 SUMMIT SUPPORT OPPORTUNITIES
2022 SPONSORSHIP & EXHIBIT OPPORTUNITIES
Please note, our exhibitor space is more limited in Reno and as such, we will be cutting off opportunities when all tables are filled.




Those who have made payment on their commitment will receive priority.
Attendee profile:
Based on past Nevada Cancer Control Summits and estimated participation, we expect the attendees to reflect the following:
140-170 Attendees from across Nevada
35% oncology professionals including physicians, nurses, and administrators
10% cancer registry professionals
25% public health professionals
25% primary care professionals including doctors, nurses, pharmacists, and care coordinators
Past sponsors & exhibitors:
The 2021 event had nearly 40 sponsors and exhibitors from pharmaceutical and medical technology companies, cancer centers, hospitals and healthcare providers, ancillary services, and more.
 

Benefits

Platinum

$5,000

Gold

$2,500

Silver

$1,500

Bronze

$1,000

Complimentary Summit Registrations

7

5

3

1

Recognition on NCC Social Media Outlets

ü

ü

ü

ü

Exhibit Space with 6' Table

ü

ü

ü

ü

Inclusion on Summit Website & Emails

Logo

Logo

ü

ü

Acknowledgement in Summit Slide Show

Logo

Logo

ü

 

Inclusion in Program Materials

Logo

Logo

ü

ü

Promotional Placement in Attendee Totes

ü

ü

 

 

Mentions Throughout Summit

ü

 

 

 

Signage at Summit Registration Area

ü

 

 

 
Activity Sponsorship Options - $2,000
Activity support packages allow exhibitors/sponsors to provide additional support to any of several activities and receive extra recognition. Each sponsorship level includes all Silver benefits, plus benefits noted below:
Registry Session Sponsor: TBD Based on Summit Agenda
Receive recognition as the exclusive sponsor of the half-day breakout sessions for cancer registry professionals, including logo recognition on-site. Also supports 2 scholarships to be awarded to registry professionals by NCC, in sponsor's name.
Exhibitor Bingo Sponsor: 1 Available
Receive recognition as sponsor of the Exhibitor Bingo activity with logo placement on bingo cards placed in all attendee totes.
Breakfast and Break Sponsor: 1 Available
Receive recognition as the sponsor of breakfast and afternoon break, including signage with logo at buffet/refreshment table.
Awards Luncheon Sponsor: 1 Available
Receive recognition as the sponsor of the annual Summit Awards and Luncheon, including logo placement on tables and in presentation.
Attendee Tote Sponsorship - $3,000
The Attendee Tote Sponsor receives their logo printed on all conference totes, distributed to attendees, speakers, and exhibitors.
In addition, this level includes all the benefits of Silver Sponsorship.
Register as an exhibitor using the form below, or download the exhibitor packet linked above and send it in with your payment.
Please contact Summit coordinator Kristen Hackbarth with questions or for more information.