Nevada Cancer Control Summit
Carpenters International Training Center, Las Vegas, Nevada
September 12, 2023
Hosted by Nevada Cancer Coalition, the Nevada Cancer Control Summit is a statewide conference featuring sessions on targeted topics across the cancer spectrum. The Summit brings together physicians, nurses, advocates, survivors, administrators, and more to share cutting-edge information, update practitioners on the latest topics in cancer care, and strengthen the coalition to further cancer control efforts in Nevada.
The Summit offers continuing education credits for physicians, nurses, cancer registry professionals, and oftentimes credits for other specialty areas.
Thank you to our 2023 supporters: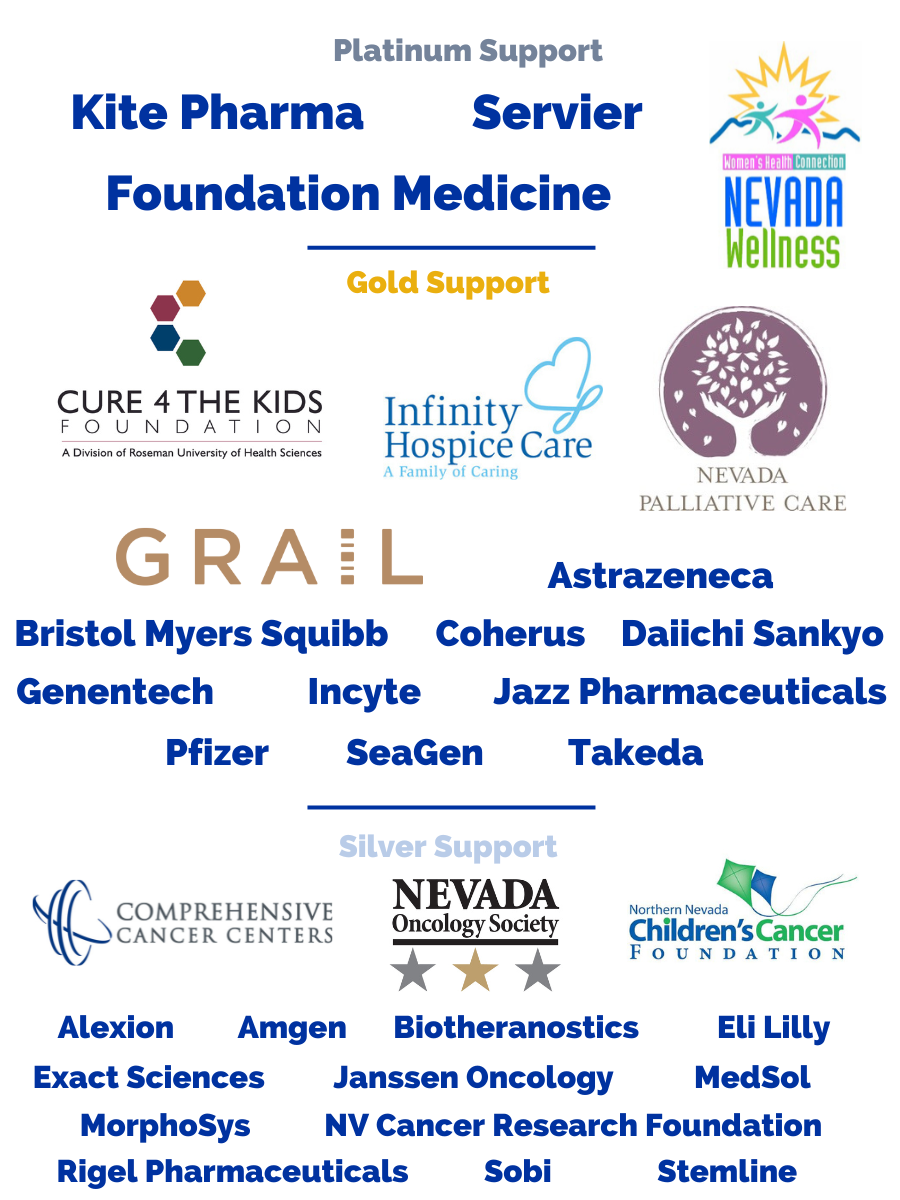 2023 AGENDA & SPEAKERS
7-8 a.m. Breakfast and Exhibits sponsored by GRAIL
8-9 a.m. Opening Keynote - Main Room
A look at cancer in Nevada: Policy and data impacts in the Silver State. State and federal laws, rules and other policies have a tremendous impact on cancer treatment and control. Learn more about the latest changes that may affect your patients and practice during this fast-paced session. We'll also share the latest cancer data that can help you to identify priorities for your work. Ihsan Azzam, Ph.D., M.D., Chief Medical Officer, State of Nevada Division of Public and Behavioral Health and Cari Herington, MBA, Executive Director, Nevada Cancer Coalition 
Concurrent Sessions
9:05-10:05 a.m.
Main Room - Prevention and screening interventions lightning round. Great things happen when we work together. Get the details on three collaborative projects, how they were implemented, the outcomes from each, barriers and lessons learned, and how you can implement similar programs in your organization. Projects include: Get to Goal at Nevada Health Centers featuring Lisa Dettling; Low Dose Lung Cancer Screening Program at Humboldt General Hospital featuring Diane Klassen; and ACS HPV Intervention at Renown Health featuring Liliana Cueva.
OR
Breakout Room - Updates in Urologic Oncology
Dr. Sandy Srinivas, Professor of Medicine and Clinical Research Group Leader for Urologic Program, Stanford University
10:05-10:25 a.m. Break and Exhibits sponsored by GRAIL
Concurrent Sessions
10:25-11:25 a.m.
Main Room - Long-term needs of adolescent and young adult survivors. Cancer survivors diagnosed during adolescence and young adulthood have a higher risk of developing a wide range of chronic health problems. This "in-between" group often doesn't have a medical home for long-term follow up and may be more transient, with not even a regular primary care provider. In this session we'll look at what some of the potential health risks are for AYA survivors and approaches to lower those risks. Dr. Waseem Alhushki, Cure 4 The Kids Foundation
OR
Breakout Room - The Evolving Landscape of Lung Cancer Treatment: A Roadmap to Improved Outcomes. In this lecture, Dr. Puri will discuss the evolution of perioperative immunotherapy in non-small cell lung cancer, targeted therapy for early stage non -small cell lung cancer, and the future of personalized therapy in small cell lung cancer. Dr. Sonam Puri, Huntsman Cancer Institute
11:25 a.m.-12:25 p.m.
Main Room - Patient mental health: A proactive and trauma informed approach. For many people with cancer, the diagnosis and treatment can be a trauma with long- and short-term emotional effects. The changes in a person's life—physical, cognitive, relational, and others—can have far-reaching implications for a person's mental and physical health. Health care workers can use trauma-informed interventions to help patients manage the changes associated with diagnosis, treatment and survivorship to promote more positive outcomes. Ashley Taylor, Ph.D., Clinical Psychologist, U.S. Department of Veterans Affairs
OR
Breakout Room - Breast Cancer Viewed Through a Health Equity Lens: Disparities and Ancestry
Melissa Boneta Davis, Ph.D., Professor and Director of Institute of Translational Genomic Medicine, Morehouse School of Medicine
12:25-1:45 p.m. Lunch, Exhibits and Awards sponsored by GRAIL
1:45-2:45 p.m.
Main Room - Addressing Food Myths Food Insecurity, and Supplements: Improving Treatment and Cancer Outcomes with Adequate Nutrition. What a cancer patient feeds themselves can have an impact on their outcome. Food insecurity can contribute to a patient's anxiety and can lead to malnutrition and/or trade-offs between food and other resources. Crash diets and "miracle foods" can also contribute to adverse effects during a patient's care. In this session will review ways to discuss nutrition, counsel on "miracle cures," and share resources that provide true patient support. Julie Shimko, MA, RD, Outpatient Oncology Registered Dietitian, Stanford Oncology
2:45-3 p.m. Break and Exhibits sponsored by GRAIL
3-4 p.m.
Main Room - Delivering equitable care for rural and underserved Nevadans. Rural and underserved Nevadans face many challenges in finding quality, timely, and accessible healthcare. They often must overcome a number of barriers including transportation, provider shortages, missed work, and poor access to broadband internet, and challenges with receiving care across state lines, among others. During this session we'll look at opportunities and solutions to connect high quality cancer screening, treatment, and survivorship care to Nevadans living in rural and underserved communities. Lisa Dettling, Executive Vice President Ancillary Services, Nevada Health Centers
LEARNING OBJECTIVES
Discuss the latest policy changes that may affect your patients or practice
Review Nevada's cancer data and priorities
Provide an overview of the current healthcare needs, challenges, and barriers of Nevadans living in rural Nevada.
Discuss what resources are currently available through federally qualified health centers (FQHCs) to Nevadans in rural communities.
Review opportunities and solutions to enhance access to care for Nevadan's living in rural communities.
Describe a successful program in low-dose lung cancer screening and what it took
Review coding and requirements by CMS
Review the current standard guidelines for cancer survivorship 
Discuss the Cure4TheKids survivorship experience (Storybook Homes)
Discuss cancer survivorship obstacles and future directions
Describe the utility of genetic ancestry in disparities and biological diversity in cancer outcomes
Discuss the benefits of inclusion of diverse populations for rigorous research design
Describe the quality metric for breast health (mammogram screenings) at Nevada Health Centers and the challenges to achieve the annual screening goal.
Gain an understanding of the quality metric for breast health (mammogram screenings) at Nevada Health Centers and the challenges to achieving the annual screening goal.
Learn about the "Get to Goal" Breast Health Campaign introduced at Nevada Health Centers in 2023 in an effort to improve the screening rates.
Review the role of a psycho-oncology practitioner
Describe the impact of stress on cancer and cancer treatment outcomes
Discuss the strategies comprising a trauma-informed approach to cancer care
Highlight other bio-behavioral interventions for coping with cancer 
Discuss the evolution of perioperative immunotherapy in non-small cell lung cancer 
Identify the role of targeted therapy for early-stage non-small cell lung cancer 
Describe the future of personalized therapy in small cell lung cancer 
NON-CE INDUSTRY SESSIONS - NEW!
We'll have a handful of Non-CE industry sessions offered for registered attendees only and available in our breakout room. 
1:45 -2:15 p.m. - CAR T, Creating Hope: The Potential of Car T for your patient
2:15 - 2:45 p.m. - Health Equity in Lung Cancer and Biomarker Testing, Michele Puyear, PharmD, Genentech
3 - 3:30 p.m. - Updates in HER2 Metastatic Breast Cancer, Daichii Sankyo
3:30 - 4 p.m. - Updates in PV: MAJIC-PV Study, Brian Carriere, Medical Science Liaison, Incyte
CME/CE INFORMATION
CE/CME Certificates will be provided by the University of Nevada, Reno Office of Continuing Medical Education. Attendees must complete the event evaluation to receive their certificate via email. If you did not receive an email following the Summit, please contact us for assistance.
This activity has been planned and implemented in accordance with the accreditation requirements and policies of the Accreditation Council for Continuing Medical Education through the joint providership of the University of Nevada, Reno School of Medicine and Nevada Cancer Coalition.  The University of Nevada, Reno School of Medicine is accredited by the ACCME to provide continuing medical education to physicians.
The University of Nevada, Reno School of Medicine designates this live for a maximum of 6 AMA PRA Category 1 Credit(s)™. Physicians should claim only the credit commensurate with the extent of their participation in the activity.
Physician assistants, nurse practitioners and nurses may participate in this educational activity and earn a certificate of completion, as AAPA, AANP, and ANCC accept AMA PRA Category 1 Credits™ through their reciprocity agreements.
This program meets the Nevada State Board of Medical Examiners' requirement for 2 hours of training related to ethics, pain management, or addiction care during each licensure period.