Nevada Cancer Control Summit
Carpenters International Training Center, Las Vegas, Nevada
September 12, 2023
Hosted by Nevada Cancer Coalition, the Nevada Cancer Control Summit is a statewide conference featuring sessions on targeted topics across the cancer spectrum. The Summit brings together physicians, nurses, advocates, survivors, administrators, and more to share cutting-edge information, update practitioners on the latest topics in cancer care, and strengthen the coalition to further cancer control efforts in Nevada.
The Summit offers continuing education credits for physicians, nurses, cancer registry professionals, and oftentimes credits for other specialty areas.
Thank you to our 2023 supporters: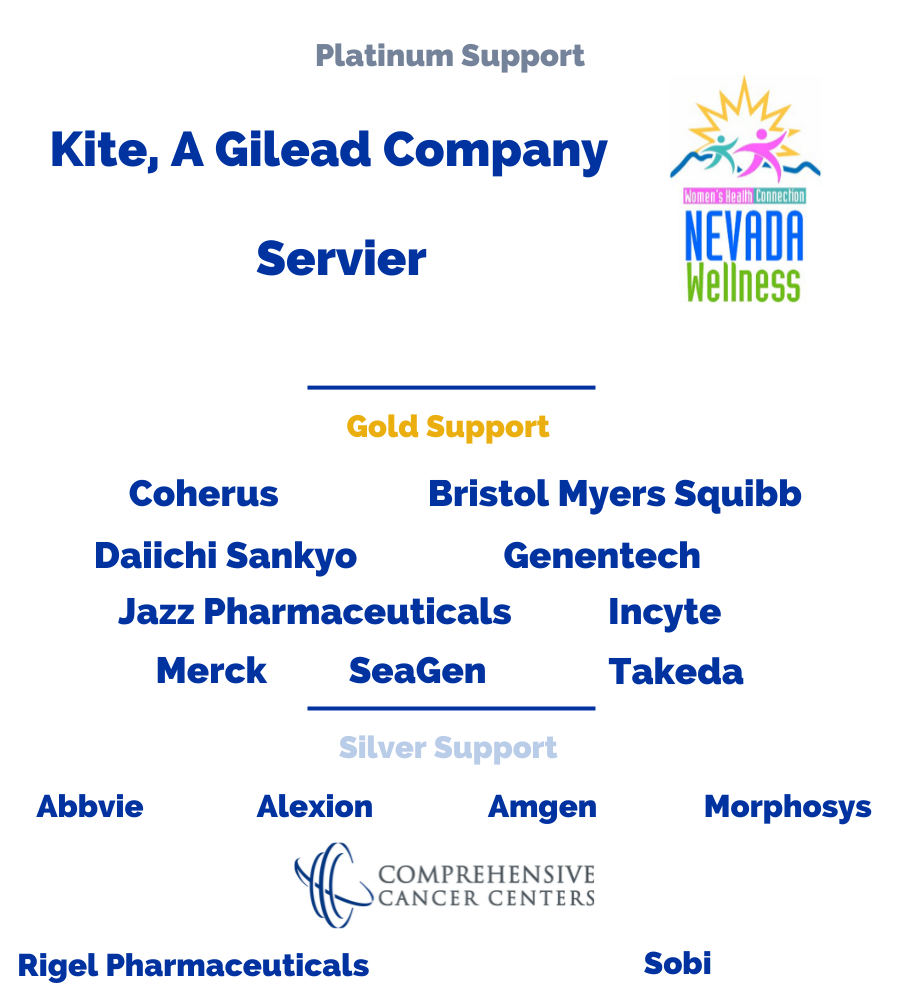 2023 AGENDA & SPEAKERS
Please note, this agenda is still in draft. Topic names are subject to change. Speakers are still being confirmed.
7-8 a.m. Breakfast and Exhibits sponsored by GRAIL
8-9 a.m. Opening Keynote
A look at cancer in Nevada: Policy and data impacts in the Silver State.State and federal laws, rules and other policies have a tremendous impact on cancer treatment and control. Learn more about the latest changes that may affect your patients and practice during this fast-paced session. We'll also share the latest cancer data that can help you to identify priorities for your work. Cari Herington, MBA and Nevada Central Cancer Registry
Concurrent Sessions
9:05-10:05 a.m.
Prevention and screening interventions lightning round.Great things happen when we work together. Get the details on three collaborative projects, how they were implemented, the outcomes from each, barriers and lessons learned, and how you can implement similar programs in your organization. Projects include: Get to Goal at Nevada Health Centers featuring Lisa Dettling; Low Dose Lung Cancer Screening Program at Humboldt General Hospital featuring Diane Klassen; and ACS HPV Intervention at Renown Health featuring Liliana Cueva.
OR
Lung Cancer Treatment Update, speaker TBD
10:05-10:25 a.m. Break and Exhibits sponsored by GRAIL
Concurrent Sessions
10:25-11:25 a.m.
Long-term needs of adolescent and young adult survivors. Cancer survivors diagnosed during adolescence and young adulthood have a higher risk of developing a wide range of chronic health problems. This "in-between" group often doesn't have a medical home for long-term follow up and may be more transient, with not even a regular primary care provider. In this session we'll look at what some of the potential health risks are for AYA survivors and approaches to lower those risks. Dr. Waseem Alhushki, Cure 4 The Kids Foundation
OR
Breast Cancer Treatment Advances
11:25 a.m.-12:25 p.m.
Patient mental health: A proactive and trauma informed approach.For many people with cancer, the diagnosis and treatment can be a trauma with long- and short-term emotional effects. The changes in a person's life—physical, cognitive, relational, and others—can have far-reaching implications for a person's mental and physical health. Health care workers can use trauma-informed interventions to help patients manage the changes associated with diagnosis, treatment and survivorship to promote more positive outcomes. Ashley Taylor, Ph.D., Clinical Psychologist, U.S. Department of Veterans Affairs
OR
Clinical Session TBD
12:25-1:45 p.m. Lunch, Exhibits and Awards sponsored by GRAIL
1:45-2:45 p.m.
Food insecurity, crash diets and homeopathic remedies: Supporting patients through good nutrition. What a cancer patient feeds themselves can have an impact on their outcome. Food insecurity can contribute to a patient's anxiety and can lead to malnutrition and/or trade-offs between food and other resources. Crash diets and "miracle foods" can also contribute to adverse effects during a patient's care. In this session will review ways to discuss nutrition, counsel on "miracle cures," and share resources that provide true patient support. Julie Shimko, MA, RD, Outpatient Oncology Registered Dietitian, Stanford Oncology
2:45-3 p.m. Break and Exhibits 

sponsored by GRAIL
3-4 p.m.
Delivering equitable care for rural and underserved Nevadans.Rural and underserved Nevadans face many challenges in finding quality, timely, and accessible healthcare. They often must overcome a number of barriers including transportation, provider shortages, missed work, and poor access to broadband internet, and challenges with receiving care across state lines, among others. During this session we'll look at opportunities and solutions to connect high quality cancer screening, treatment, and survivorship care to Nevadans living in rural and underserved communities. Lisa Dettling, Executive Vice President Ancillary Services, Nevada Health Centers
ATTENDEE REGISTRATION
CME/CE INFORMATION
This activity has been planned and implemented in accordance with the accreditation requirements and policies of the Accreditation Council for Continuing Medical Education through the joint providership of the University of Nevada, Reno School of Medicine and Nevada Cancer Coalition.  The University of Nevada, Reno School of Medicine is accredited by the ACCME to provide continuing medical education to physicians.
The University of Nevada, Reno School of Medicine designates this live for a maximum of 6 AMA PRA Category 1 Credit(s)™. Physicians should claim only the credit commensurate with the extent of their participation in the activity.
Physician assistants, nurse practitioners and nurses may participate in this educational activity and earn a certificate of completion, as AAPA, AANP, and ANCC accept AMA PRA Category 1 Credits™ through their reciprocity agreements.
This program meets the Nevada State Board of Medical Examiners' requirement for 2 hours of training related to ethics, pain management, or addiction care during each licensure period. 
VENUE
Carpenters International Training Center
212 Carpenters Un Wy, Las Vegas, NV 89119
Hotel Information To Come
EXHIBITOR REGISTRATION
EXHIBITOR INFORMATION
2023 SPONSORSHIP & EXHIBIT OPPORTUNITIES
Please note, our exhibitor space is limited. We will be cutting off opportunities when all tables are filled. Those who have made payment on their commitment will receive priority.
 

Benefits

Platinum

$6,000

Gold

$3,000

Silver

$2,000

Complimentary Summit Registrations

7

5

3

Recognition on NCC Social Media Outlets

ü

ü

ü

Exhibit Space with 6' Table

ü

ü

ü

Preferred Exhibit Location**

ü

 

 

Inclusion on Summit Website & Emails

Logo*

Logo*

ü

Acknowledgement in Summit Slide Show

Logo*

ü

ü

Inclusion in Program Brochure

Logo*

ü

ü

Post-Conference Attendee List

ü

ü

ü

Promotional Placement in Attendee Totes

ü

ü

 

Mentions Throughout Summit

ü

 

 

Signage at Summit Registration Area

ü

 

 
*Please note, due to continuing education rules, we are unable to place pharma company logos on most materials, however company names will be used at comparable size. **Locations will be assigned first come, first served based on date of exhibitor agreement.
Activity Sponsorship Options - $2,500 SOLD!
Activity support packages allow exhibitors to provide additional support to any of several activities and receive extra recognition. Each sponsorship level includes all Silver benefits, plus benefits noted below:
Breakfast and Break Sponsor

: 1 Available

, 

Receive recognition as the sponsor of breakfast and afternoon break, including signage with logo at buffet/refreshment table.

Awards Luncheon Sponsor

: 1 Available

, 

Receive recognition as the sponsor of the annual Summit Awards and Luncheon, including logo placement on tables and in presentation.
Attendee Tote Sponsorship - $3,500 SOLD!
The Attendee Tote Sponsor receives their logo printed on all conference totes, distributed to attendees, speakers, and exhibitors. In addition, this level includes all the benefits of Silver Sponsorship.
2022 PRESENTATIONS