Nevada Cancer Control Summit
Las Vegas, Nevada
September 12, 2023
Hosted by Nevada Cancer Coalition, the Nevada Cancer Control Summit is a statewide conference featuring sessions on targeted topics across the cancer spectrum. The Summit brings together physicians, nurses, advocates, survivors, administrators, and more to share cutting-edge information, update practitioners on the latest topics in cancer care, and strengthen the coalition to further cancer control efforts in Nevada.
The Summit offers continuing education credits for physicians, nurses, cancer registry professionals, and oftentimes credits for other specialty areas.
Special Thanks to our 2022 Summit Support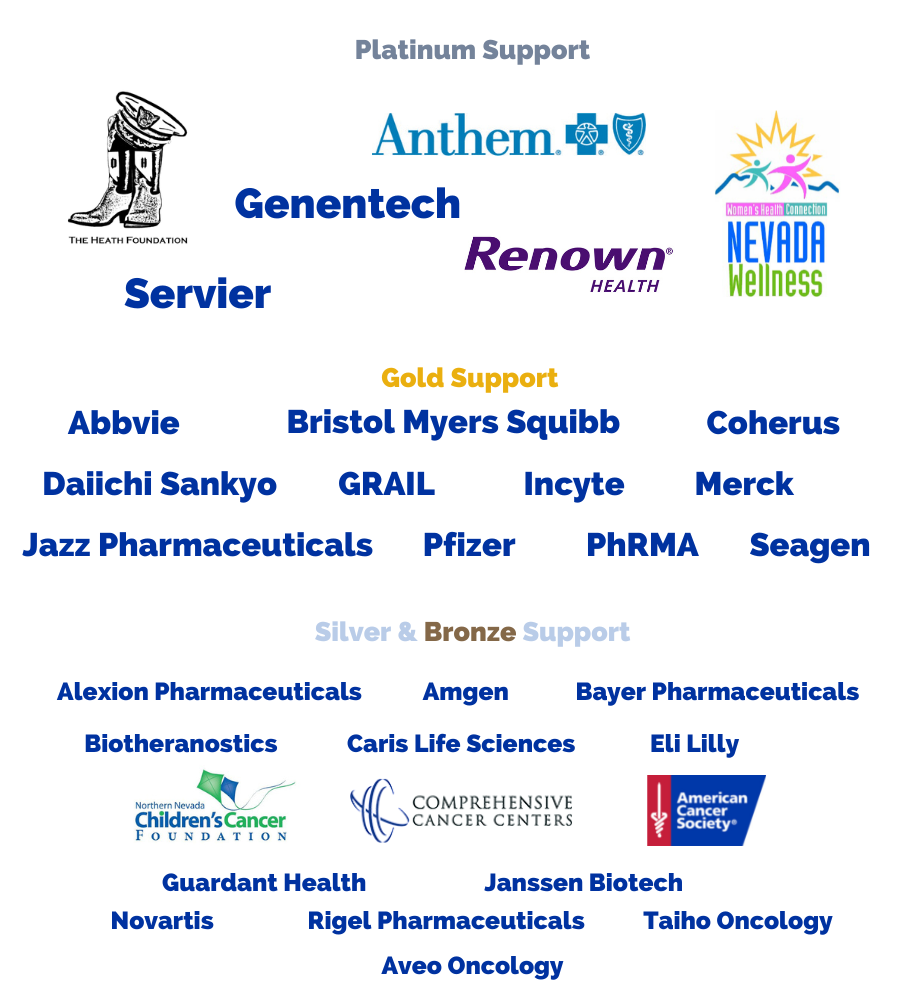 2022 AGENDA & SPEAKERS
2022 Agenda
Please note, this agenda is still in draft. Topic names are subject to change. Speakers are still being confirmed.
8 a.m. - Breakfast sponsored by Comprehensive Cancer Centers of Nevada
8:30 - 9:15 a.m. Cancer In Nevada: Where are we?
Dr. Lisa Richardson, MD, MPH, Director, CDC Division of Cancer Prevention and Control 
In this session we'll look at current cancer incidence and mortality in Nevada, disparities, barriers, impacts of COVID-19, current screening guidelines, and more.
9:15 - 10 a.m. Precision Oncology: Delivering Exact and Reliable Cancer Care
Dr. Lee Schwartzberg, Renown Institute for Cancer
10 - 10:30 a.m. Exhibits and Break, sponsored by Comprehensive Cancer Centers of Nevada
10:30 - 11:15 a.m. What's New in Treatment of Myeloma
Dr. Mehrdad Abedi, Professor, Hematology/Oncology, U.C. Davis Health System
11:15 a.m. - 12 p.m. Practice Improvement: Expanding the Support Team to Increase Capacity
Katherine M. Salkanovic, MBA-HM, CPXP, Cure 4 The Kids
In this session we'll look at how adding patient support staff can help to improve patient-provider communication, enhance patient compliance, reduce patient anxiety and stress, and free up time for high- and mid-level providers to treat patients. 
12 - 1:30 p.m. Lunch, Exhibits & Awards sponsored by GRAIL
1:30 - 2:45 p.m. Panel Discussion: Educating and Retaining a Cancer Careforce
We'll facilitate a discussion with leaders from Nevada's medical and nursing schools to learn what schools are doing to help fill the education and workforce pipeline and how Nevada's healthcare providers and stakeholders can help to retain newly trained workers. Panel participants include Luther Brewster, Roseman University; Brian Lauf, University of Nevada, Reno; Andrea Gregg, High Sierra AHEC; and Megan Comlossy, The Larsen Institute.
2:45 - 3 p.m. Exhibits and Break, sponsored by Comprehensive Cancer Centers of Nevada
3 - 3:45 p.m. Cell/Immune and Transplant Therapy for High Risk Acute Lymphoblastic Leukemia—Guiding Therapies with Next-Generation Sequence-MRD,
Dr.  Michael A. Pulsipher, Professor of Pediatrics; Division Chief, Pediatric Hematology and Oncology; Director, Children's and Adolescent Cancer Initiative at Huntsman Cancer Institute and Intermountain Primary Children's Hospital 
3:45 - 4:15 p.m. Nevada Lung Cancer Screening: How We Are Failing and How We Can Fix It, part 1
Dr. Chivonne Harrigal
This two-part session, offered in response to community demand, will look at the current state of lung cancer screening in Nevada, why lung cancer screening works, challenges to lung cancer screening, and access concerns.
4:15 - 5 p.m. Nevada Lung Cancer Screening: How We Are Failing and How We Can Fix It, part 2
Angela Criswell, MA, Associate Director of Quality Screening & Program Initiatives, GO2 Foundation For Lung Cancer
In part two of this session, we'll learn from a successful, evidence-based lung cancer screening program how to improve lung cancer screening rates and reduce mortality and morbidity from the disease, and discuss current collaborations and initiatives in Nevada that can move us forward in improving lung cancer screening in our state.
2022 CME/CE INFORMATION
CME Accreditation & Designation
This activity has been planned and implemented in accordance with the Essential Areas and Policies of the Accreditation Council for Continuing Medical Education through the joint providership of the University of Nevada, Reno School of Medicine and the Nevada Cancer Coalition. The University of Nevada, Reno School of Medicine is accredited by the ACCME to provide continuing medical education in physicians.
The University of Nevada, Reno School of Medicine designates this live activity for a maximum of 6 hours AMA PRA Category 1 Credits TM. Physicians should only claim credit commensurate with the extent of their participation in the activity.
Continuing Education Credit
The University of Nevada, Reno School of Medicine approves this program for 6 hours of nursing continuing education credit.
The National Cancer Registrars Association Program Recognition Committee has determined "2022 Nevada Cancer Control Summit" program supports 6.25 CE hours of which 0 hours meet the Category A requirement.  
Social workers can submit paperwork to their accrediting board for credit.
VENUE
 Las Vegas Venue TBD
EXHIBITOR INFORMATION
2022 SPONSORSHIP & EXHIBIT OPPORTUNITIES - CLOSED
The 2023 Nevada Cancer Control Summit will be in Las Vegas.
If you'd like to be notified when exhibit opportunities open, please contact Kristen Hackbarth to be added to the list.
PRESENTATIONS