Thank you for helping us to #PaintNevadaPink in 2022!
We invite you to join us in spreading the message all year round: Mammograms Save Lives.
---
Thank you to our 2022 Sponsors!

Take the pledge

...to schedule a breast cancer screening in the next 12 months or remind a loved one to so.
This pledge is more than a commitment to your health. It's a simple and powerful statement to those around you that screening for breast cancer is a normal and regular part of life for women. Gentlemen, you can pledge too! Pledge to share this information with the women (and other men) in your life. Your voice is a force for good in Nevada.
A pledge to take control of your health.
A pledge to learn about your personal risks and family history.
A pledge to your family.
A pledge to yourself.
After filling out the form, we'll remind you every year on your birthday.
Learn more about breast cancer screening
So you took the pledge. What now?
Be an inspiration to your friends and let them know this is an important issue for you and your family. This 'share' is a tool to help your friends understand three important things about their health:
1) Why screening is important.
2) When to start and how often to get screened.
3) Where to get screened.
Goal: Detect a lump before you can feel it.
Screening tests like mammography have been very successful in detecting breast cancer at an early stage. The goal of the screening is to find the cancer before it causes symptoms (like a lump that can be felt).
Breast cancers found during screening exams are more likely to be smaller and still confined to the breast. The size of a breast cancer and how far it has spread are among the most important factors in determining a woman's prognosis. Early detection tests for breast cancer help save thousands of lives each year, and many more lives can be saved when more women and their health care providers use them regularly.
Starting at 40 women should talk to their health care provider about when to begin screening with mammogram, generally recommended every year.
Ages 25 to 39, women should talk with their health care provider about beginning clinical breast exams and understanding their own breast health, family history of cancer, and any other risk factors.
Where do I get screened? 
After talking to your healthcare provider they will give you a referral if it's time for you to get screened. Often, this referral is to a location with names such as "radiology," "diagnostics," or "mammography" in the name. This just means they have the mammogram machine needed to do your screening exam. Sometimes these are separate locations and sometimes they are in a hospital or specialty clinic.
You can also schedule an appointment to get screened in the Mammovan if you don't live near a screening facility and the van will be traveling to your community. Nevada Health Centers operates the Mammovan — a mobile mammography van that travels to rural areas of our state and those where it can be hard to get to a screening location -- to provide mammograms to women who probably would not seek out mammography services on their own. You often do not need a referral to get a mammogram here, and if you are over 40 you can get screened. To make an appointment, visit their website or call 877-581-6266.
More Information:
View the official Breast Cancer Screening Guidelines Recommendations from The American Society of Breast Surgeons here. 
Learn more about genetic counseling for hereditary breast and ovarian cancer here.
Low-cost screenings
The Women's Health Connection (WHC) program provides breast and cervical cancer screening and diagnostic services to low-income women who are uninsured or underinsured. If breast or cervical cancer is diagnosed, Women's Health Connection patients may receive treatment through Medicaid. Click or call Access to Healthcare to learn more at 844-469-4934.
Donate to support Nevadans
Breast Cancer Screening for All Nevadans is In Reach
We encourage you to make a donation in memory of a loved one or to celebrate survivorship, a special occasion or simply to recognize their courage to fight breast cancer.
Screening for Uninsured & Underinsured
We will be using the money raised for those Nevadans who need help paying for screening and any other services they need to overcome barriers to screening.
Educating Nevadans
We'll continue to educate Nevadans about the importance of cancer early detection to find cancer early, when it's most treatable.
---
Who do you screen for?
This year we want to know:
Who do you screen for?
Your daughter. Your sister. Your partner. Yourself. 
Who is it that makes you stand up for your health to get a mammogram every year? Who do you want to set an example for? Who do you want to live and thrive with? Screening for breast cancer can be deeply personal, but it's also liberating. It helps people to take control of their health and tell others: this is important, I am important, you are important. 
This year for Paint Nevada Pink we want to hear from you. Tell us, using the hashtags #IScreenFor and #PaintNevadaPink, who you screen for.
Spread the word and see who else is taking the pledge and sharing who they screen for. Click to visit our Facebook community to share your pledge with your friends and family.Add a Paint Nevada Pink frame to your Facebook profile image. Choose from one of three options:
#MammogramsSaveLives pink circle
Pink Ribbon
Pledge to Go Pink
Pink your home, pink your pets
We want you to show us your pink!
Going pink is a simple visual cue to show people you support breast cancer screening and encourage them to take the pledge. Here are a few of the fun ways to go Pink:
Pink your porch with a pink light bulb. We'll have bulbs available for donation at our Reno kickoff event, or you can purchase a pink bulb in Las Vegas at Star Nurseries. Need to buy one? Order online through Amazon Smile and a portion of your purchase will benefit the Paint Nevada Pink initiative.
Pink your pet! Take a photo of your pet in their finest and pinkest gear and share on social media using the hashtags #PaintNevadaPink and #PinkPets. We'll be sharing these all month long!
Pink yourself. Show us how you go pink to raise awareness for breast cancer screening. Have a hot pink #OOTD? Add the #PaintNevadaPink and #MammogramsSaveLives hashtags to show us your pink.
What else can you pink? Show us how creative you can be and be sure to share the results with the hashtag #PaintNevadaPink. (Please be respectful of others, do not engage in risky activities, and always follow the law.)
Pink your business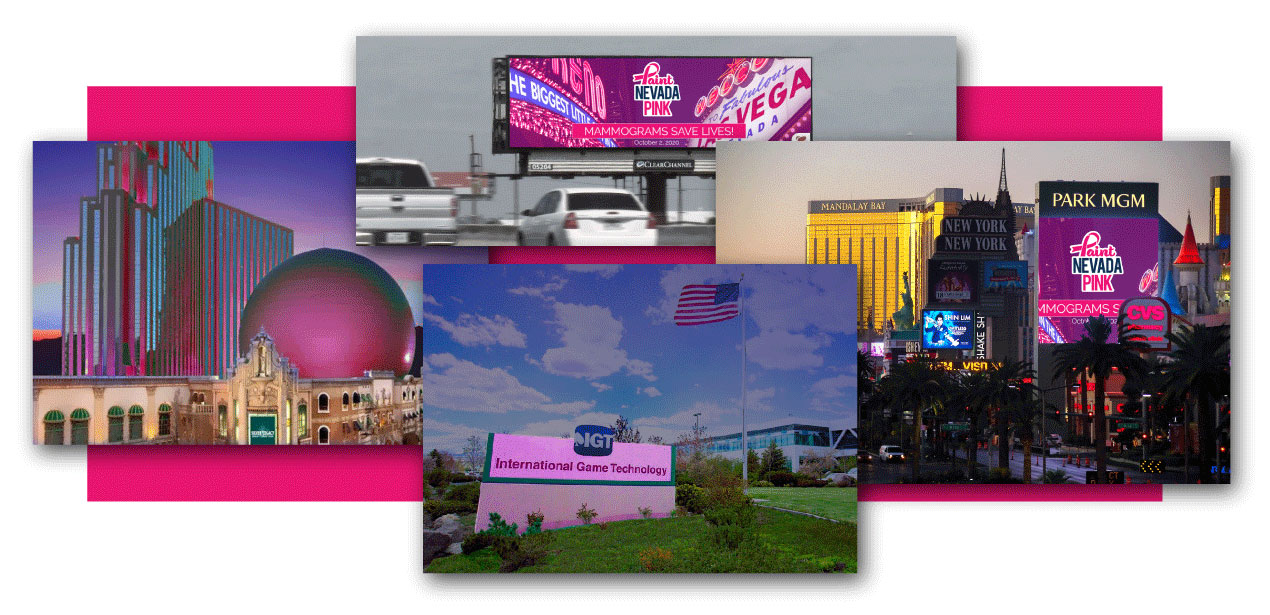 Hint: It's about more than just changing a few lightbulbs.
"I want to be an inspiration for our employees and show them
that cancer screening is important to our company culture."

 Jonathan Swinton, COO
Paint Nevada Pink invites your organization to show your support for breast cancer screening in October, and all year round. Here are some ways you can support the Paint Nevada Pink movement and "pink your business":
Go ahead and light your business pink or add the pink ribbon to your fleet to drive awareness for screening.
Invite your team to wear pink on Fridays in exchange for taking the pledge or donating to Paint Nevada Pink's screening fund.
Recognize employees who are surviving & thriving with breast cancer.
Let employees take time off each calendar year for cancer screenings.
Ensure your organization's health plan covers cancer early detection, diagnostics, and treatment.
Offer an employee donation match to double the impact of donations to support breast cancer screening.
Share your activities on social media using #PaintNevadaPink to let everyone know your organization supports women's health.
Contact Darcy Phillips (darcy@nevadacancercoalition.org) to learn how your company can help thousands of women all across Nevada.
Our corporate partners make it possible to provide breast cancer screening and diagnostic services to low-income women who are uninsured or underinsured. Download our sponsorship package to learn how you and your organization can truly make a difference in your hometown.