Free Public Sunscreen Dispensers Awarded to Sun Smart Nevada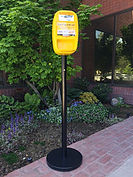 Sun Smart Nevada is having a big week! Melanoma Foundation of New England (MFNE), a nonprofit aimed at reducing the incidence of melanoma, the deadliest form of skin cancer, selected Nevada Cancer Coalition (and Sun Smart Nevada) as a recipient of two free sunscreen dispensers for public use, as part of the nonprofit's Practice Safe Skin program expansion to 54 new locations in 12 states this summer.
Sun Smart Nevada was selected through an RFP process in January 2016 and received the dispensers and sunscreen this week. They will be used at community outreach events throughout the spring and summer, and we plan to work with parks and recreation organizations to have additional dispensers permanently placed throughout communities.
"We are thrilled to expand on our highly successful pilot program in Boston and offer sunscreen units for public and private distribution throughout the country," said Deb Girard, Executive Director, MFNE. "We hope sunscreen dispensers will become as commonplace as hand sanitizers over the next few years."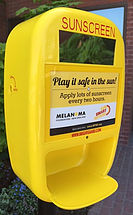 The specially designed dispensers are part of Practice Safe Skin, a program that offers sunscreen as an effective preventive measure to help avoid sun over-exposure year round. Each sunscreen dispenser is equipped with four 1000 mL bags of sunscreen (670 applications per bag) and contains an all-natural blend of 6% zinc and 6% titanium SPF-30 sunscreen, safe for people aged 6-months and up. Ingredients are printed on the machines upon installation.
Melanoma is rising faster than any other cancer with one person every 50 minutes dying from the disease. Studies show that with daily sunscreen protection, the risk of melanoma is preventable.
The dispensers are already getting buzz in the community (before we've even placed them!). Check out this clip from northern Nevada's CBS affiliate KTVN Channel 2 News.
Where can you check out the dispensers? Head to our Skin Cancer Awareness Day on the Farm May 21 in Minden or the Family Health Festival May 25 at Miguel Ribera Park in Reno. As we add new events we'll be sure to keep you posted! If you see the dispensers out in the community be sure to take a sunscreen selfie and use the hashtags #PracticeSafeSkin and #SunSmartNV!
If you'd like to support Sun Smart Nevada's sunscreen dispenser program, either to purchase additional dispensers or resupplies of sunscreen, visit our donation page.