Genomics Earning More Time in the Spotlight
According to the Centers for Disease Control and Prevention (CDC), more than one million people in the United States are at increased risk for adverse health outcomes due genetic factors such as Lynch syndrome and hereditary breast/ovarian cancer. In recent years the BRCA1 and BRCA2 genetic mutations that can contribute to a woman's breast cancer risk have earned more time in the spotlight, most notably a year ago with Angelina Jolie's highly publicized decision based on having the gene.
Recently the CDC's Office of Public Health Genomics has developed a variety of materials and tools to increase awareness of genetic testing and counseling related to cancer prevention. Some of the tools are designed for public health professionals and coalitions, while others are resources for the general public to understand the role of genetics in some disease risk as well as genetic testing and options.
Here's a look at what's happening: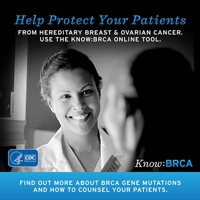 The Know:BRCA tool is an online assessment and informational site that helps women to learn about BRCA genes and assess their risk of having a BRCA mutation. In addition, the campaign includes a tool for clinicians to improve their knowledge and patient counseling skills related to BRCA genes and tools to aid in the discussion with patients.
CDC's Tier 1 Genomic Applications Toolkit for Public Health Departments
The CDC's Office of Public Health Genomics defines Tier 1 genomic applications as "those having significant potential for a positive impact on public health based on available evidence-based guidelines and recommendations." There are a number of applications with evidence supporting implementation, as defined by the CDC. The list of current recommended applications is here, but the top three emphasized in the Tier 1 Toolkit are testing for hereditary breast and ovarian cancers, Lynch syndrome and colorectal cancer, and familial hypercholesterolemia. Access the Tier 1 Toolkit here for resources on partnership building, action steps and detailed resources for building genomics into public health plans.
The Genetic Alliance is a network of disease-specific advocacy organizations, companies, universities and more creating programs, tools and resources at the intersection of health and genetics. Recently they highlighted the work of cancer professionals across the country in using genomics and genetic testing to help large groups of people. Working with the CDC, Genetic Alliance produced this video to discuss initiatives related to genomics and public health.
Public Health Genomics Implementation to Save Lives
More information on the partnership between Genetic Alliance and the CDC, along with more videos, available here.
National Cancer Institute
The NCI offers a fact sheet, available in English and Spanish, to answer questions about BRCA1 and BRCA2 mutations, genetic testing, risk management and more. Access the Fact Sheet here.