Prostate Health Month is September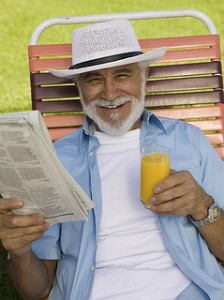 According to the American Cancer Society, prostate cancer is the most common cancer among men (after skin cancer), and the National Cancer Institute estimates that nearly 240,000 new cases of prostate cancer in the U.S. just this year. Additionally, the NCI estimates nearly 30,000 deaths from prostate cancer this year.
Despite having solid data on the incidence of this type of cancer, it's still unclear what the exact cause of prostate cancer is. Research shows that several risk factors indicate likeliness to develop prostate cancer. Age is the strongest factor, with the chance of getting prostate cancer increasing as a man ages. The cancer is rare in men under 45. Additionally, the risk of prostate cancer increases if his brother or father had the disease. African American men are more likely to develop the cancer, with Asian and American Indian men less likely. (Source: UsTOO Prostate Cancer Education & Support)
Currently, organizations including the CDC and American Cancer Society do not advocate for screening for prostate cancer, and instead encourage men to discuss it with their doctors. Both organizations note that testing may not reveal hidden cancers, may provide false positive test results, or reveal cancers that may never affect overall health.
Instead, it's important for men to make note of the symptoms of prostate cancer and practice informed decision making with a physician to make the decision that best aligns with personal preferences and values. Symptoms of prostate cancer include:
Difficulty in starting urination
Weak or interrupted flow of urine
Frequent urination, especially at night
Difficulty in emptying bladder completely
Pain or burning during urination
Blood in the urine or semen
Pain in the back, hips, or pelvis that doesn't go away
Painful ejaculation
Those interesting in learning more about prostate cancer, treatment, and advocacy can find a wealth of information with UsTOO Prostate Cancer Education & Support, a nationwide organization offering educational information, materials, and peer-to-peer support. Prostate cancer survivors and patients in Nevada can also attend any of the UsTOO Prostate Cancer Support Groups, meeting in Carson City, Las Vegas, and Pahrump. For group information, click here.
photo credit: moodboardphotography via photopin cc