Reflections from 2023's ONS Congress
It's been nearly a month since NCC's nurse navigator Amy Thompson and executive director Cari Herington returned from San Antonio, Texas where Oncology Nursing Society hosted its national conference.
This year's ONS Congress was especially exciting for NCC as Amy and Cari were invited to present a breakout session on developing a survivorship program such as ThriveNV. The presentation went off without a hitch, and more than 100 people attended to learn from NCC's efforts. A line formed following the session with people wanting to ask more questions than time had allowed for during the presentation.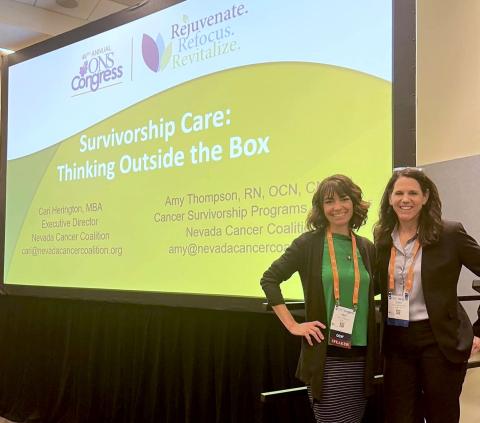 To say it was a thrill for team NCC is an understatement.
But beyond that one breakout session, there were several more days of speakers, networking and yes, even a 5K, for Amy and Cari to experience. Here's a look at what they enjoyed and some of their big takeaways:
Both Amy and Cari remarked on how well organized and run ONS Congress was, for both attendees and presenters. They also noted that everything is big in Texas: the food, the storms, and their hair! 
Amy was captivated by the opening keynote session with Maimah Karmo, a breast cancer survivor and founder of Tigerlily Foundation. The Tigerlily Foundation is a national breast cancer foundation with various programs aimed at reaching young Black women ages 15-45 to promote early detection of breast cancer, self-advocacy, awareness and support. She highlighted several programs, including Angel Advocates with a model of using mentor/peers for outreach. At NCC we are working to increase awareness and screening for breast cancer among Black women, and also working to increase opportunities for peer mentoring among survivors. We were thrilled to learn about this program!
The session on Diversity and Equity in Oncology Nursing delved deeper than a mere focus on community engaged research and social determinants of health to look at the biological and genetic determinants of health. "Precision medicine" is based on research to date – predominantly on people of white/European background—and does not necessarily work for those with an African ancestry. Inclusion in cancer genetic research is crucial, especially for Black, Indigenous and other people of color! Ancestry-related and social-related biology can be impactful in clinical outcomes. For example, West African ancestry is associated with triple-negative breast cancer. Researchers have also found race differences between quadruple negative and triple negative breast cancer.
As someone who has a registered therapy dog, of course Cari loved the session titled "UnLEASHing the Power of Pet Therapy: How to Integrate Pet Therapy Into Your Cancer Center." Information and studies are growing in this field to better quantify the use of pet therapy. This session shared two examples of integrating pet therapy into an oncology setting. Cari noted this session was "PAWESOME!"
Amy was enthralled by the session "Compassionate Cancer Care: A Trauma-informed Approach to Mental and Emotional Patient Health Needs."  This session provided an overview of various types of trauma and how to meet people where they are and use informed approaches when interacting with them to create safer spaces for patients. They shared a case of a young woman who presented as combative - restraints and "typical" approaches just made her reactions worse (based on her expression of the trauma that was being triggered). Taking a trauma-informed approach (no male staff, dim lights, staff continuity, etc.), she was able to not be restrained and made strides in both her mental and physical health. 
Amy also attended "Disease Self-Management for Patients and Caregivers" which highlighted three research projects. 

Moving Through Cancer - explored the benefits of physical activity during treatment and guides to self-management of common treatment side effects. Part of this included the PACE Study (focusing on increasing physical activity in African American population with colorectal cancer) and a community advisory board. 
Dyadic Self-Management following surgery - this project focused on ostomy self-management training for rural cancer survivors using the model of trained "ostomates" (peers who live with an ostomy) and RN. 
Family Care Center - demonstrating how an organization focused on identifying the caregivers of their cancer patients and assessing/providing interventions specifically for the caregivers. 

Amy said she loved the focus on caregivers throughout the conference, including in the session, "Dimensions of Caregiving: Emotional, Physical, and Financial Considerations of a Cancer Diagnosis."  This session told the story through a nurse who cared for her dying father. It highlighted the various areas of need and ways that we can all intervene to ensure caregivers are seen and heard and provided the support they need. 
NCC and our ThriveNV program definitely benefitted from Cari and Amy's participation at this year's ONS Congress, and we're already looking forwarding to sending more team members to next year's event.