Summit Speaker Series: Dr. Archie Bleyer
The 2015 Nevada Cancer Control Summit brings together expert speakers from throughout Nevada and the nation to discuss the latest topics in cancer control. We kick off our series highlighting some of this year's experts, this week featuring Archie Bleyer, MD, presenting "Cancer in Adolescents and Young Adults: Progress at Last?!"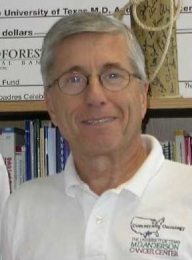 Dr. Bleyer is a clinical research professor at the Knight Cancer Institute of the Oregon Health & Science University. He is also Director for DEFEAT Cancer, Medical Advisor to the St. Charles Regional Cancer Center in Bend, Oregon, and Director of Aflac/CureSearch Adolescent and Young Adult Cancer Research.
With his research published in more than 300 peer-reviewed articles, chapters, and books, Dr. Bleyer's goal is to improve the outcomes of young adults and adolescents with cancer. To help reach this goal, he was a founding member of Critical Mass, originally formed in 2006 as the LIVESTRONG Young Adult Alliance, an advocacy organization on a mission to transform the treatment of young adults with cancer.
Each year about 70,000 adolescents and young adults (AYAs) between the ages of 15 and 39 are diagnosed with cancer, and despite advances in many other cancers over the past three decades, there has been little or no improvement in survival for this young population. At a 2013 IOM forum Dr. Bleyer said that AYA cancers are still relatively poorly understood and may be one reason for poor survival. "Disease biology is different in this age group, not only among the cancers themselves but also within individual types and individual patients. Thus, there is an urgent need for more research into the molecular and epidemiologic nature of these diseases, as well as specific treatment strategies."
Other factors for poor survival include delayed diagnosis, inadequate access to and participation in clinical trials, inadequate treatment, and unmet psychosocial and supportive care needs. AYAs also face numerous challenges after treatment, including reentry into school or the workforce, infertility as a result of treatment, short- and long-term neurocognitive effects, cardiopulmonary conditions, and risk for post-traumatic stress disorder, depression, and suicide.
Join us for a deeper look at AYA cancers with Dr. Archie Bleyer at the 2015 Nevada Cancer Control Summit. Registration is just $100 through August 10, or $125 after that date. Get details and explore the entire agenda here.