Takeaways from the Georgia Cancer Summit
By Kristen Hackbarth, NCC Communications Director
For those who aren't aware, I work for Nevada Cancer Coalition from afar – in Atlanta, Georgia. While that poses some challenges, it also provides some great opportunities, such as the chance to go to the Georgia Cancer Summit with just a 15-minute drive.
In late January I attended the one-day event, which was packed with appealing sounding topics and a diverse list of speakers. Georgia and Nevada are very different states—I went through quite a culture shock when I arrived here—with seemingly different issues. However, I felt there was still a lot I could learn by attending this conference, and learn I did. Here are my key takeaways from the summit:
1) The support for cancer control, and public health, in Georgia is extensive. This was apparent in several ways.
First, the conference appeared to be fully funded by just four organizations: Emory Winship Cancer Institute (an NCI-designated comprehensive cancer center), Georgia Cancer Control Consortium, Georgia CORE and the Georgia Department of Public Health. This financial support signaled that funding to support coalition efforts for cancer control is a priority for the state and the NCI cancer center and that spending it on events such as this is important.
Second, there were a number of physician leaders and decision-makers who not only attended, but were deeply involved in the coalition, the state cancer plan, the summit, and cancer control work in the state. This was fantastic to see and demonstrates how buy-in and participation from the top is vital to getting people from across all levels of organizations, and getting more organizations, involved. These leaders' participation also likely resulted in more people engaging with cancer control work in the state, serving as a form of social and professional endorsement.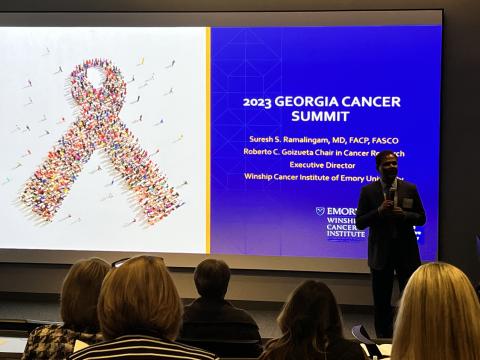 2) Data is the foundation for everything cancer control partners do. The morning session included an in-depth look at Georgia's cancer data, with analysis using state registry data alongside a number of other data sources. This provided a robust picture of cancer in the state and indicated ways in which partners across the state could use data and further analyze it to determine priorities and opportunities for interventions. Data was demonstrated to be a cross-cutting issue, informing every bit of cancer control.
In Nevada, our data isn't always complete (something our state registry is working hard to fix) and we at times have suppressed data due to low population in certain areas. This makes data analysis a challenge, which in turn makes program planning more challenging. We have heard that work is underway to create a more robust collection of reliable cancer and health data for our state. Based on what we saw from Georgia, we are excited to see how this allows us to transform our work in the future.
3) Cancer is seen as a community issue, not a healthcare issue. One of the breakout session speakers was a reverend and a leader of a coalition of churches. He spoke about an outreach program he and other church leaders and barbers had undertaken to increase prostate cancer screening in their community. They saw the work as an important part of being trusted community leaders. Continuously throughout the conference there was a feeling that cancer control was not a healthcare issue, not a medical issue, not a policy issue, but a community issue and a community responsibility. This was refreshing.
4) Navigation, navigation, navigation. Several sessions focused on increasing early detection activities and access to rural healthcare. The key to the success of each of these programs was navigation. An oncologist who treats rural patients described a hub and spoke structure where satellite infusion clinics allowed patients to receive chemotherapy in their communities rather than drive 100 miles to the hospital. How did this work? With the support of navigators who helped patients access transportation and other resources in their own communities. Another hospital leader described increasing screening rates in rural communities, which wouldn't have been possible without navigators helping patients to overcome barriers to screening. "How can other clinical partners enact something similar?" he was asked. "Navigation isn't a billable service," he said. "But we offer it because it's the right thing to do."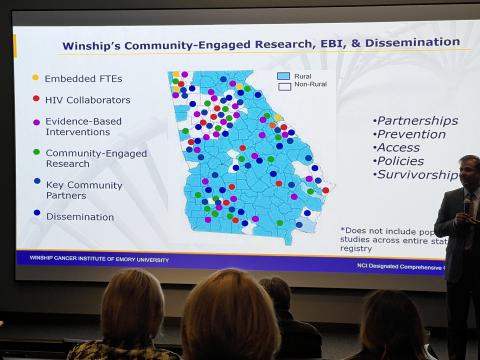 5) Problems we think are unique to Nevada aren't so unique. In Nevada we say our ruralness makes us unique. We say that our vast unpopulated areas with long drives to cities is unique. Our people are different. Our problems are different.
In reality, we're not that different. Are we further behind than some other states? Yes. Do we lack the investment in cancer control seen by other states? Definitely. But when it comes to delivering care to people in rural communities or overcoming cultural challenges, we're really very similar. And the solutions are similar: the will to do what's right, the investment in people and their health, and the willingness to work together, even with competitors.