Call for Award Nominations Now Open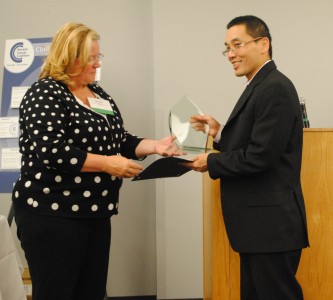 Know someone that's made great contributions to cancer control in Nevada this year? Now's the time to nominate them for the Nevada Cancer Coalition's annual awards, recognizing outstanding efforts in cancer control at the annual Nevada Cancer Control Summit. The awards honor those who have made an impact in cancer research, advocacy, prevention, treatment, and survivorship.
The signature award, the Denise Dunning Award, is given in memory of Denise Faye Dunning whose passion and leadership was crucial to advancing cancer prevention, control and treatment in Nevada. As the State Comprehensive Cancer Control Coordinator, Ms. Dunning was dedicated to the Coalition and its work until cancer took her life.
In 2014 award recipients included: Senator Joyce Woodhouse and Stacey Escalante for Excellence in Advocacy; Dr. Tam T. Nguyen, MD, the Patient Champion Award; and Debbie Strickland and Carla Brutico the Denise Dunning Award.
Get nomination guidelines and submission details here. Nominations are due August 7, 2015.