Checking In on World Cancer Day
by Kristen Power
Here we are again. National Cancer Prevention Month has begun and World Cancer Day is, once again, just a few days away (on February 4). In a moment of reflection I decided to re-read the blog post that marked this occasion last year and reflect on the work that NCC, and I personally, have done in the area of cancer prevention. As I had written before, there's not much new to say about cancer prevention; there are a handful of healthy habits and simple tasks we can adopt and complete to maximize cancer prevention in our lives. So, in the spirit of growth, I'd like to take a few moments to look back at last year's post and provide you an update.
"We Can. I Can. Prevent Cancer Together" 2017 Blog Post
Don't use tobacco. At NCC we've strengthened our efforts in tobacco. Our community programs manager Christine is a passionate anti-smoking and anti-tobacco advocate and we are thrilled at the work she's accomplishing. Our efforts have gone beyond advocating for Smoke Free Meetings to working with parks and recreation departments, large business associations, and community leaders to pass smoke-free policies that eliminate exposure to secondhand smoke.
Eat a diet rich in fruits and vegetables, and drink alcohol in moderation.​ I think i've used my "365 Days of Salads" cookbook only a handful of times. But, my consumption of fruits and veggies is up from last year's post! It's a rare day that I can hit 7 servings of vegetables, but an average day includes 2 servings of fruit and 4-6 servings of vegetables. It's a win that was earned through meal planning, smart shopping, and a willingness to eat veggies at 10 a.m. as a morning snack. We've seen a number of our partners promoting healthier eating as well, including Community Health Alliance with their 5210 program.
Be physically active; include at least 30 minutes of physical activity in your daily routine. Last year I noted that this was a tough goal for me to accomplish, but that in training for a 168-mile hike I was hoping to achieve it. Guess what?! Mission accomplished. I not only completed that hike feeling amazing, but I've been able to maintain an exercise routine that's fun and functional, and has become one of my favorite habits. It all began with a few days a week doing an activity that I enjoyed, like cycling or hiking, and then adding in more days as I got fitter. Now I'm exercising 30-60 minutes a day, minimum! And a side note, this is the culture at NCC. When we talk about weekend plans we cover running, cycling, yoga, hiking, snowshoeing...these girls are active! Find a fitness buddy or talk about fitness with your friends and colleagues and it might just become a part of your personal culture.
Protect yourself from the sun. Of course at NCC we've been promoting sun safety through our Sun Smart Nevada program like crazy. It's a passion that we're happy to share at a number of outreach events, in schools across six counties, and with community partners. Check out SunSmartNevada.org for details on how to stay Sun Smart.
Get immunized. Visit ImmunizeNevada.org for the schedule of vaccinations you should receive. Our recommendations here stay the same: HPV and Hep B vaccination for cancer prevention and a flu shot for general health and protection for those that cannot be vaccinated. Of course, there are a number of vaccines recommended for infants, children, adolescents, and adults. Stay up to date and you're preventing more than just cancer.
Test your home for radon. We can't win them all. I forgot to test my home for radon last year, but I still have my test and it's still viable. Guess what I'm doing this month...Connect with the Nevada Radon Education Program to learn more about this cancer-causing gas that can accumulate in your residence, how to test for it, and what you can do to mitigate.
Get regular medical care and stay up to date on your cancer screenings. That includes Pap tests for cervical cancer, a colonoscopy or FIT test for colon cancer, and a mammogram for breast cancer. I turned 40 this year and got my first mammogram. It was actually kind of fun. I asked a lot of questions, checked out the images on the screen, and then went on my merry way. It was worth the 30-minute time committment to know that I'd checked it off my list. Don't let fear or embarrassment stop you from taking charge of your health!
---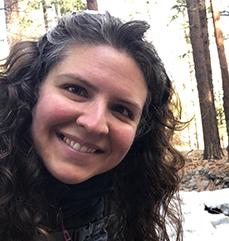 Kristen Power has been the Communications Director for the Nevada Cancer Coalition since August 2013. In that time she's lost 37 pounds, completed a sprint triathlon, backpacked the John Muir and Tahoe Rim trails, gotten two Pap tests and a mammogram, gone through nearly a dozen tubes of sunscreen, and eaten a lot of dark chocolate to balance out the kale. She has been known to over-share.