Coronavirus - What You Need to Know
What you need to know now
By: Steven Fine NCC Communications Director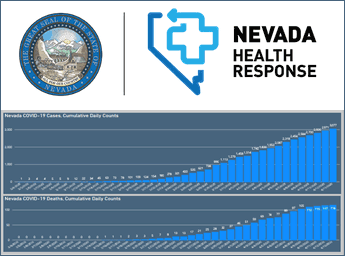 Stay Home, Stay Safe
-
Please leave home only for essentials, like food or exercise. When out, keep a safe distance of six feet between yourself and others. Your efforts are making a difference in slowing the spread of the virus.
If You Are Sick – Stay home and contact your health care provider online or by phone. Do not go to the hospital, except in a life-threatening situation. Use the CDC Self Checker Tool (link is external to review your symptoms. Read what to do if you are sick (link is external).
Wear a Cloth Mask – If you need to leave your home for an essential purpose or will be near other people, wear a cloth covering over your mouth and nose. Since COVID-19 may be transmitted by someone who does not have symptoms, a mask helps you protect others. You must still practice social distancing, wash your hands and avoid touching your face. Learn more about how to use and make cloth face coverings.
People Coming to Nevada – Residents and non-residents coming to Nevada – for anything other than an essential purpose ­­– should quarantine at home for 14 days. Learn more about what the Stay Home, Stay Safe order means to Vermonters (link is external).
If You Smoke or Vape – The new coronavirus attacks the lungs, making it harder for people who smoke or vape to fight off the virus. There has never been a better time to quit. Find free resources at Nevada Quitline.