Individuals, Organizations Recognized in Annual Nevada Cancer Coalition Summit Awards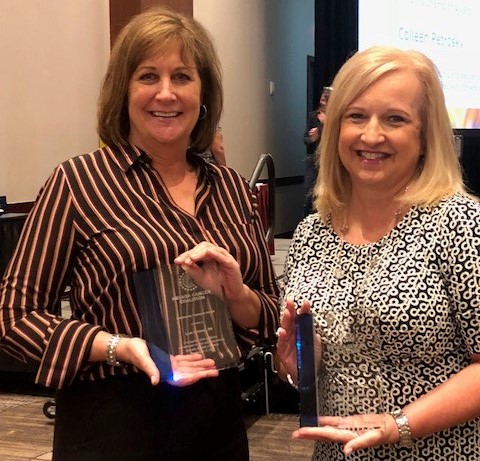 Nine individuals and two organizations received awards recognizing their passion and leadership in cancer control on Monday, Sept. 17 at the Nevada Cancer Control Summit Awards Luncheon. Awardees included nurses, physicians, a state assemblywoman, and more.
"So much of the work done in cancer control is behind the scenes, and the annual Summit Awards gives us the opportunity to recognize these amazing partners and highlight some of the fantastic work being accomplished right here in Nevada," said Cari Herington, executive director of Nevada Cancer Coalition which distributes the awards. "Nevada is lucky to have such passionate and engaged individuals working within our state to serve the community and those affected by cancer."
Awards distributed at the 2018 Summit Awards Luncheon were:
Three Community Champion Awards, to Lynn Hanssen, RN and Linda Rittenburg, BSN, RN, of Southwest Medical Associates, who organized the first Get Your Rear in Gear walk/run for colon cancer awareness, and Colleen Petrosky, manager of the Nevada Health Centers Mammovan, whose passion for breast cancer early detection has increased the number of women screened for breast cancer in Nevada through expansion of the mobile mammography unit's capabilities and enhancement of the truck's facilities and services.
The Community Program Award given to Renown Health's Advance Directives Workshops, led by Mary-Ann Brown, RN, which have helped hundreds of Nevadans complete advance directives through education and support at regularly offered free workshops.
The Advocacy Award presented to Nevada Assemblywoman Teresa Benitez-Thompson. During the 2017 Nevada legislative session Benitez-Thompson sponsored a bill that provided for an additional $500,000 per year for two years to the Women's Health Connection program to increase breast and cervical cancer early detection, opening access to screening for hundreds of women in Nevada.
Healthcare Partner of the Year was awarded to an organization, a nurse, and a physician. Cure 4 The Kids in Las Vegas received the award for their generous support of children diagnosed with cancer and their collaborative spirit in a recent partnership with Roseman University to increase research capabilities. Charmian Lykins, breast nurse navigator at Renown Institute for Cancer was honored for her spirit of partnership with the Nevada Cancer Coalition serving as a committee and task force member, volunteer, and educator all while going above and beyond for the many cancer survivors she works with on a daily basis. And, Dr. Christina Alsop received the final Healthcare Partner of the Year award for her work to speed and streamline the cancer diagnosis process for primary care providers in Nevada.
The Sun Smart Superstar award was given to Bjorn Berg, physical education teacher at Lucille S. Rogers Elementary School in Clark County, for being an early champion of Nevada's Sun Smart Schools, joining the program's pilot year and expanding his school's participating through fundraisers and the planting of dozens of shade trees on campus.
The Nevada Cancer Registrars Award was given to Nevada state biostatistician Carmen Ponce, MD, PhD, whose work with the Nevada Central Cancer Registry has increased the collection and dissemination of statewide cancer data.
NCC awarded the Pinnacle Award to Karen Sartell, who recently retired from Nevada Cancer Research Foundation, for her years of dedication to research and clinical trials in Nevada.
The Nevada Cancer Coalition's Summit Awards are given annually during the nonprofit's annual Nevada Cancer Control Summit, which alternates between Reno and Las Vegas. Nominations for the awards open in June and anyone working in cancer control in Nevada is eligible for nomination. This year's awards luncheon was sponsored by Nathan Adelson Hospice and Summerlin Hospital Medical Center and hosted at Renaissance Hotel Las Vegas, selected for its 100 percent smoke-free environment.
For more information on the Nevada Cancer Control Summit and Summit Awards visit www.nevadacancercoalition.org/summit.