Learn the 5 S's For a Sun Smart Summer
Skin Cancer Detection and Prevention Month kicks off May 1 with Melanoma Monday, and continues throughout the month to encourage sun safety and skin cancer prevention.
According to the U.S. Surgeon General, the number of Americans who have had skin cancer at some point in the last three decades is estimated to be higher than the number for all other cancers combined. And melanoma has become one of the most common cancers among the nation's adolescents and young adults.
"It's estimated that one in five individuals will be diagnosed with skin cancer in their lifetime, some people in their teens and 20s," said Kristen Power, communications director at Nevada Cancer Coalition. "Precautions like wearing sunscreen, covering up with long sleeves, a hat, or sunglasses, and avoiding peak hours of sunlight, can go a long way to help prevent skin cancer."
Nevada Cancer Coalition launched Sun Smart Nevada, and the youth program Sun Smart Schools, in 2015 to help reduce the number of skin cancer cases diagnosed in Nevada. The program, now practiced in nearly two dozen schools in four districts statewide, helps schools to establish sun safety policies, provides free sun safety curriculum for grades pre-K through 12, and offers automatic sunscreen dispensers to schools for recess and other outdoor activities. School sun safety assemblies and guest speakers are also provided.
Over-exposure to the sun's UV radiation and use of indoor tanning devices are the primary causes of skin cancer, including basal cell and squamous cell carcinomas and melanoma, the deadliest form of skin cancer. Nevada's nearly 300 days of sunshine annually and often high altitudes create conditions that necessitate extra caution when enjoying the outdoors.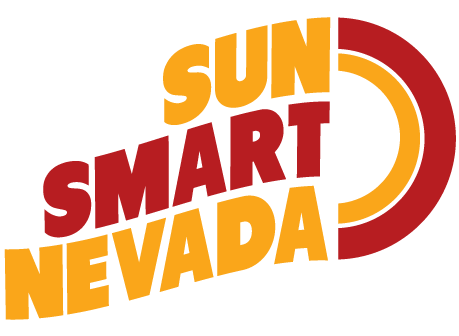 A good rule of thumb for skin cancer prevention is "Slip, Slop, Slap, Seek, Slide." The campaign, a cornerstone of Nevada Cancer Coalition's Sun Smart Nevada program, encourages people to:
Slip on a shirt or sun protective clothing
Slop on sunscreen with a substantial SPF rating (30) and both UVA and UVB protection, and re-apply every two hours
Slap on a hat, the wider the brim the better
Seek shade or shelter during peak sun exposure times, generally from 10 a.m. to 4 p.m.
Slide on sunglasses to protect the eyes
For more information on skin cancer prevention and detection, or the Sun Smart Schools program, visit SunSmartNevada.org.