Welcome Sarah! NCC hires community engagement manager
NCC this month hired Sarah Grocki, MBA, as Community Engagement Manager—a new position created to support the coalition's increasing outreach and community activities.
Sarah hit the ground running at NCC participating in a pre-planned site visit from partners at the CDC on her second day. She also arrived to a list of outreach events already on the books, so she's learning the ropes out in the field.
Her responsibilities in this new role include coordinating NCC's presence at community outreach events across Nevada and organizing outreach events hosted by NCC. But what she said she's most excited about is building NCC's fledgling volunteer program.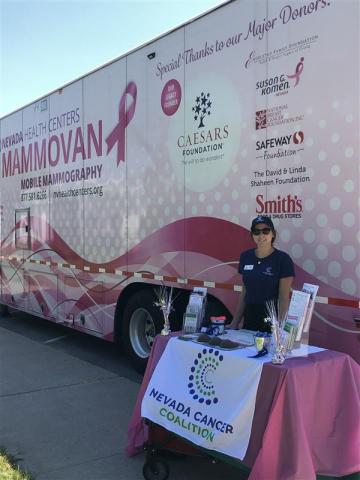 "I have a background in building training programs and I'm excited to connect with community members and train them to be advocates for cancer prevention, early detection, and survivorship in their communities," she said.
Sarah is still learning about all of Nevada's communities, having moved to Reno from Fort Worth, Texas, a little more than a year ago. There, she handled marketing and outreach for a property management company.
But, she said, she was looking for something more community-focused for her career and a change of scenery from the plains of Texas. Reno's proximity to the mountains and Lake Tahoe checked one box for the avid climber, skier, and paddleboarder. Now, her job at NCC checks the other, she said.
Learning all about Nevada's various communities may be daunting for some—where exactly is Denio?—but Sarah said she has a natural curiosity and is excited to learn more about her new home state and it's residents. She added that being a newcomer also has its benefits.
"I think I see the communities here differently than someone who's lived here most of their lives," she said. "Nothing is off the table and I'm going to explore opportunities others may not consider."
It didn't take long for Sarah to feel like she fit right in with the team, she said. She can see the big picture of what NCC does and sees her role as helping to fill in some of the gaps.
"I like working in a smaller organization because I get to work with everyone on the team," she said. "We mesh well and I already feel like we're just a big family." If you have an outreach event you'd like for NCC to attend, complete our outreach form and Sarah will respond. Volunteers can sign up online here.