World Cancer Day: Let's Debunk Some Myths!
If you caught the collaborative ad from Chevrolet and the American Cancer Society during Sunday's SuperBowl then you may already know that today is World Cancer Day. So what does this mean? No, there won't be a walk. And we won't be pinning on colored ribbons. What we will be doing is raising our collective voices in the name of improving general knowledge around cancer and dismissing misconceptions about the disease. Organizations from around the globe have come together to shine a brighter light on this disease, and in 2014 are working to debunk some of the myths surrounding cancer. Here's a look at the top four myths:
Myth: We don't need to talk about cancer
Truth: Talking about cancer challenges negative beliefs, attitudes and behaviors that perpetuate myths about cancer, cause fear and stigma and prevent people from seeking early detection and treatment. In many instances one person speaking out about their own cancer encouraged a listener to get screened and ultimately detect their own cancer. It can be that simple.
In addition, governments, communities, employers and media all have a role to play to challenge perceptions about cancer to create a culture where people are empowered to access quality cancer prevention and care.
How can you add your voice to the discussion about cancer?
Myth: Cancer…There are no signs or symptoms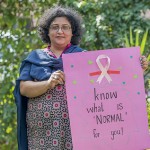 Truth: For many cancers there are warning signs and symptoms, and the benefits of early detection and indisputable. It's true, many cancers can go undetected and show no warning. But others, such as breast, cervical, skin, oral and colorectal cancers do show signs which can be detected during routine screenings by your physician. And when caught in the early stages, these cancers can be very treatable. The takeaway here? Know your body and take note of any changes in normal function, talk to your doctor about cancer screening recommendations, and take prevention measures where possible.
When can you schedule your next screening?
Myth: There is nothing I can do about cancer
Truth: There is a lot that can be done at an individual, community and policy level, and with the right strategies, a third of the most common cancers can be prevented. On a personal level, a lifestyle focused on prevention combined with regular screening can prevent many cancers. Don't smoke and stay away from secondhand smoke, limit alcohol, achieve and maintain a healthy weight, and protect yourself from sun exposure. These steps can reduce your risk for many cancers.
If you're a business owner or decision-maker, implement positive prevention policies in the workplace, including a smoke-free environment, a focus on fresh and healthy food options, and education programs for employees about prevention and early detection.
And finally, join forces with others passionate about reducing the burden of cancer to advocate for cancer-related policies.
How will you "do something" about cancer for yourself, your co-workers, or others?
Myth: I don't have the right to cancer care
Truth: All people have the right to access proven and effective cancer treatments and services on equal terms, and without suffering hardship as a consequence. World-wide many patients lack access to prevention and early detection programs as well as treatment, often for curable cancers. In the United States we are fortunate to have many organizations, both government and non-governmental, that help to provide free or low-cost screening and early detection programs, as well as assistance in accessing treatment. Despite this, many patients with lower socio-economic status do not access these services. There's still work to be done, but the bottom line is that everyone has the right to care and treatment.
Repeat to yourself: I have a right to cancer screening and care.
Put together your action plan and tell others…because we need to talk about cancer.
Read more about World Cancer Day and the myths about cancer here.
photo credit: UN Women Asia & the Pacific via photopin cc