Advice for cancer survivors returning to the gym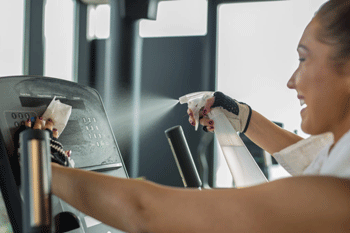 Gyms are beginning to open up across Nevada and many people are anxious to get back to their exercise routines. Cancer survivors are included in this group, as they should be, with exercise being a great way to improve your immune system and reduce the risk of cancer reoccurrence. However, even the cleanest gyms are a breeding ground for germs. Exercise causes increased respiration and perspiration rates, and equipment such as yoga mats and padding on weight equipment offers a warm porous place for germs to thrive. Therefore, it is increasingly important for everyone, but especially those with compromised immune systems, to take extra precautions when at the gym. The following are some tips for cancer survivors to keep in mind when returning to the gym during the COVID-19 pandemic:
Consider not going to the gym right when restrictions are lifted. Continue with at home workouts until more data has been collected about businesses reopening.
Talk with your doctor about your desire to return to the gym. They may have extra precautions for you to take.
Avoid going to the gym at peak times and be aware of how close you are working out to people. Consider avoiding group classes.
Wear a face covering. Yes, this is uncomfortable when working out, but a thin layered face covering is better than nothing at all.
Wearing gloves is a fine idea, but please remember that they are not magic. You will still be spreading whatever you touch to other places, so wiping down equipment will still be needed. Gloves should be removed once your workout is completed followed by a thorough handwashing.
Clean equipment both before and after use with disposable disinfectant wipes.
Avoid touching your face. This should include being careful of using sweat towels that have been placed on equipment and other potentially contaminated surfaces.
Take your own, already filled water bottle.
Wash your hands throughout your workout, shower as soon as possible after completing your workout, and wash all workout clothes following each workout.
Gyms reopening across the state is wonderful and exercise is a great way to improve your health. But if you or a loved one is a cancer survivor, please encourage taking extra precautions when returning to gym exercise routines.
Cassie Goodman, MSK, CES, EMR
Cancer Early Detection Programs Manager