Inflatable colons are a fun teaching tool that get results
In February, part of Team NCC participated in a fun team building activity. We inflated Colin, our inflatable colon, inside the office. It was snowing outside and we needed to show our two new team members how to set up the mega-sized teaching tool because they'd need to be able to do it on their own in just a few short weeks.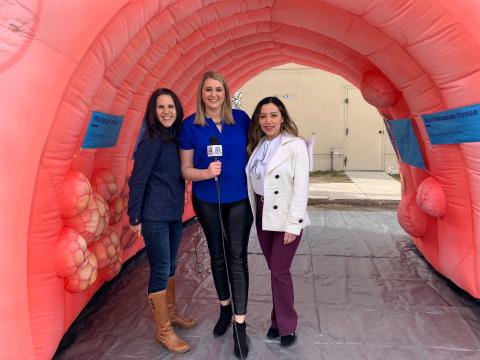 It was a success. We weren't sure we could get it done and knew that it would be a challenge to fit the whole thing in our common space, but we made it happen. That's a bit like getting screened for colon cancer, especially with colonoscopy. The prep is a challenge, you may feel like you can't get it done, but after you're done with the exam you feel accomplished.
Inflatable colons are a great teaching tool for the community as well.
A walk through the inside reveals information and visuals on a number of different diseases that can affect the colon, including polyps, colon cancer and Chron's disease. It may be easy to ignore threats to colon health when they're unseen, but a visual representation can be powerful, especially when coupled with information on how some diseases can be prevented.
"[Colorectal cancer] is largely preventable with screening and exhibits such as the inflatable colon have the potential to improve screening uptake," said researchers who studied the topic in Franklin County, Ohio.
Studies have shown that the use of inflatable colons in community outreach settings—both urban and rural—can improve knowledge of and interest in colorectal cancer screening. After touring the colon, participants reported increased knowledge and likelihood of discussing colorectal cancer with others, as well as intention to get screened. Findings from a community study in Alaska found equal impact regardless of gender, age, and ethnicity.
Researchers also noted that the inflatable colon is a cost-effective teaching tool. In Nevada, even more so. Both of our colons, Colin and Colleen, were paid for by generous sponsors.
You may see the colons out in the community more often in March but watch for them to show up at community health events throughout the year.
Special thanks to our colon sponsors!
Sponsors of the northern Colon (Colin)
American Cancer Society, Gastroenterology Consultants, Dr. James B. Harris and Dr. Karin L. Klove, Dr. Matthew Crapko and Dr. Michael Thomas of Western Surgical Group, Nevada Cancer Coalition, and State of Nevada Colorectal Cancer Control Program.
Sponsors of the southern Colon (Colleen)
American Cancer Society, Comprehensive Cancer Centers of Nevada, The Heath Foundation, Nevada Cancer Coalition, and SilverSummit Health Plan