Two Doses Now Recommended for HPV Vaccination
This post originally appeared as a guest post on the Immunize Nevada blog.
Preventing cancer just got a little easier. That's a big deal. The official news at the end of 2016 was a change to the recommendation for HPV (human papillomavirus) vaccination, reducing the recommended number of doses from three to just two for girls and boys who initiate the series at ages 9 through 14 years.
This new recommendation reduces the number of doses of the vaccine required, yet is still effective in preventing HPV infections and HPV-associated diseases, including cancers. That means fewer office visits for boys and girls, and less vaccine stored by health care providers.
This is exciting news for many reasons. The first is that two doses of HPV vaccine require fewer visits to a health care provider to get fully immunized. When you're a tween, less time spent in medical exam rooms and waiting areas is always a bonus.
The second reason we can be excited is that anything we can do to make HPV vaccination recommendations easier to comply with means fewer future cases of cervical cancer. Fewer cases of oropharyngeal, anal, vaginal, and penile cancers. Fewer cases of cancer.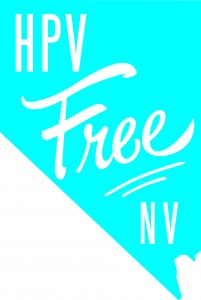 One more reason to be excited is that in Nevada we have already made great strides in increasing the number of boys and girls who have received at least one or two doses of the HPV vaccine. According to the latest National Immunization Survey among teens, Nevada was one of only seven states showing an increase in HPV vaccination coverage from 2014 to 2015. This simpler two-dose recommendation could help raise our HPV vaccination coverage even more. Not to sound like a broken record, but that means fewer future cases of cancer. It also means lives saved.
Here's a brief look at the new HPV vaccination recommendation from the Advisory Committee on Immunization Practices (ACIP):
Routine HPV vaccination for boys and girls 11 to 12 years old with two doses, the second administered 6-12 months after the first dose.
Two-dose vaccination can be given as early as 9 years of age and through 14 years of age.
Boys and girls initiating vaccination after their 15th birthday, three doses of vaccine are recommended. The second dose 1-2 months after the first and the third dose 6 months after the first.
Vaccination is recommended for girls through age 26 and for boys through age 26, however males ages 22-26 can also be vaccinated.
There are several additional elements to the recommendation for those in special populations or with certain medical conditions. For the full ACIP recommendation visit https://www.cdc.gov/vaccines/hcp/acip-recs/.
As always, prevention works best when we actually practice it. That means getting the first dose of HPV vaccine, then scheduling an appointment to get the second dose and following through. Two steps towards cancer prevention.
Read more about the vaccination recommendations for children, adolescents, and adults from our partners at Immunize Nevada.