Shedding Light on a Sun Safe Ironman Journey
Growing up and playing soccer in the hot Texas sun, my parents always encouraged practicing sun safety. In high school my sport of choice changed to ice hockey, which allowed a lax in sun protection during exercise. Toward the end of my undergraduate degree I began participating in sprint triathlons. These triathlons were short enough that reverting back to the sun safety basics were enough to avoid sun burns. However, in 2017 I decided (for some unknown reason) to undertake completing a full Ironman distance triathlon the following year. This forced me to up my sun safety game to accommodate the miles and hours.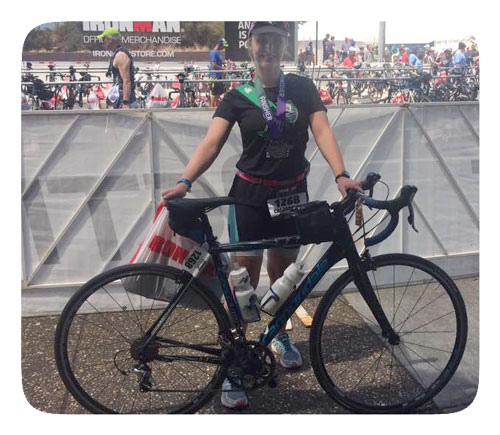 In 2017 I completed my first half Ironman sure I had taken the perfect sun safety measures. Although I had applied sunscreen prior to the race start and reapplied during the race, I woke up to sunburns around my clothing lines and my lips were red and peeling. I knew that if I were to train and complete a full Ironman in 2018, I would have to make some sun safety changes.
One of the first things I noticed was the need to increase my sunscreens SPF to a 50+ that was also water/sweat resistant and to reapply often to avoid sunburns. Not wanting to bike and run with entire bottles of sunscreen, I began purchasing and collecting travel/sample sizes of my preferred sunscreen. For quick application during the race, I placed an aerosol version of my sunscreen in my allowed supply bag. I was very diligent to ensure I applied to commonly missed areas such as ears, entire neckline, hands, and clothing line (especially around the socks).
Not wanting to ever go through the pain of sunburned lips again, I began using lip balm containing ultraviolet (UV) protection. During training and the race, I carried this lip protectant in my bike saddle bag and running belt for consistent reapplication. Other helpful tips I incorporated were wearing a running hat (even though I hate and look horrible in hats), purchasing sport clothing that contained UV protection rated materials, seeking out shaded bike and running routes during training, and attempted to schedule my training sessions in the early mornings.
Utilizing these sun safety measures I can proudly say that I completed Ironman Arizona in 2018 with zero signs of sunburns! I hope that my shared experiences enable you to exercise outdoors and remain sun safe regardless of the hours spent in the sunshine.
Cassie Goodman, MSK, CES, EMR
Nevada Cancer Coalition,
Cancer Early Detection Programs Manager
Note from NCC admin: Cassie's sunscreen of choice for these hard workouts is Banana Boat Sport Performance Broad Spectrum Sunscreen Lotion with Powerstay Technology