Survivors can benefit from exercise, with help
A recent infographic released by the National Cancer Institute notes that exercise can reduce cancer-related symptoms and improve how you feel. There are many benefits to exercise for people diagnosed with cancer, including better sleep, reduced fatigue, a stronger immune system, improved mental health, and better mobility and strength.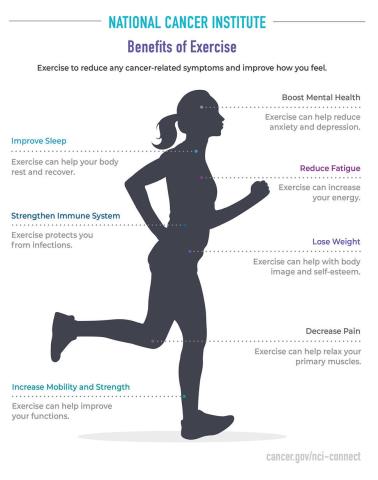 But when it comes to exercise, it's important to know what you're doing to prevent injury and focus on your body's needs.
ThriveNV spoke with Cassie Diestel, an exercise specialist who spent more than eight years running exercise and fitness rehabilitation programs for cancer patients and others facing chronic diseases. Her two biggest points are these:
A survivor should always talk with their doctor before beginning an exercise program.
Exercise after a cancer diagnosis is very individualized based on current fitness level and the type of cancer diagnosis. Work with a professional who can make sure you're getting active in a healthy way.
Diestel notes that exercise for people diagnosed with cancer can start before treatment, and that early start (or continuation of existing regimen) can be a big help going into treatment.
"If they were active before the diagnosis, then they should continue their exercise routine," Diestel says. "If someone was not exercising at the time of diagnosis, then a good goal is to work up to 150 minutes of moderate-intensity exercise a week." That would include cardiovascular, strength or flexibility exercises, or a combination of all three.
"The important thing is that the exercise is safe and enjoyable to the person. Walking is a great way that many people get started, but if you hate walking and prefer to bike than do that," she adds.
Diestel also suggests exploring a prehabilitation program, which is improving a patient's fitness, strength and stamina before treatment to improve the outcomes of treatment. A prehabilitation program should always take into account the oncologist's treatment plan and be put together with the support of a physical therapist or cancer exercise specialist.
But what about exercising after treatment? Diestel says any exercise during and after treatment should be discussed with a trained specialist. However, she says, some people in treatment may be able to use exercise to combat cancer related fatigue.
"A good rule to keep in mind is that a survivor should feel the same, or better, energy wise after exercise. When dealing with a cancer diagnosis, exercising to exhaustion is not the goal," Diestel says. "I tell my clients to always be thinking of their energy on a scale of 1 -10 (1 being no energy and 10 being all the energy in the world), and if their level starts to drop then they need to back off the level of exercise. They should end their routine at the same number, or higher, than what they started with --that is the level of exercise that will help to combat CRF."
Thinking about adding some exercise to your life? Check with your doctor first and ask for recommendations for a cancer exercise specialist or other similar professional to get you started.