Becoming a 'Warrior': Victories and Failures
By Darcy Phillips
This is part of an ongoing series featuring Darcy and her experience as an Evoke Warrior, training in a cancer rehabilitation fitness program. Read part 1 here, part 2 here and part 3 here.
"It always seems impossible until it is done."

- Nelson Mandela
We have passed the halfway point in the Evoke Warriors program. We had our mid-term weigh-ins and measurements, and most of us felt awesome about our results.
I was thrilled I lost about 10 pounds and 10 inches. I am more than halfway to my goals, which also include not feeling 100 years old a lot of the time. Chronic pain does a number on everything. I feel like I'm slow getting up, getting down, and getting moving, and I was hoping to alleviate that by losing a few pounds and gaining strength.
On one hand, I feel great, and I can tell I'm in far better shape. I kept up with hubs on a hike recently that impressed even him. I can pick up things I couldn't before. I'm simply stronger. Braver. More confident. My pain, however, has not disappeared, and I am uncomfortable much of the time. I suspect this program is a bit much for my physical limitations, but I'll get through it and then settle into a routine that is right for me. Limitations, however, are probably something to which one should listen.
Our fearless leader wants us to try everything before we modify or not do something. For the first time, however, she started showing us a new activity by saying, "Not everyone will be able to do this, and that's okay, I will give you something else to do."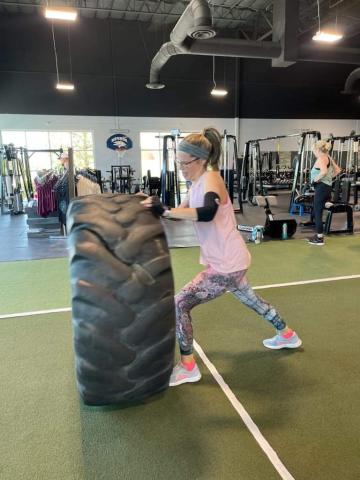 I *swear* she was looking at me when she said that, but I wanted to try anyway, because I saw this tool on day one and wondered when she'd spring it on us.
Tire flipping.
It's a thing, for those that don't know. There are several huge tires sitting in the back office at Evoke Fitness. I'm not sure where the one we used ranks in comparison to the others, but I like to think it is the biggest one. It is enormous, weighing in at 164 pounds.
I did a few other movement stations, then walked over to the tire to give it a try. I honestly figured I wouldn't be able to budge it, so I was thrilled when I pulled up the edge off the ground. I flipped it once. I was so excited I could even move it – it's the first time I've wanted to cry at the gym out of sheer joy. Then I did it two more times before stopping. There is video proof.
Ten minutes later, I tried to do a step up and dropped to the ground in agony. I rolled over and sobbed in pain. My back was out. I laid on the floor with ice, crying, for 30 minutes before realizing I was going to have to move at some point. Two people had to literally pick me up off the ground, and I'm pretty sure I said many, many bad words on the way up because it was sheer torture. I am no stranger to pain, and this was very, very bad pain.
Fast forward two weeks and I'm better, but not 100%. I regret that I have had to temper my workouts significantly since then, but I bounced back from immobile more quickly than I thought I would. No matter what, I consider that day the best day in the gym I have had so far. And you can bet I have told this story to anyone who will listen, because it feels like such a huge victory to me, even with the fail.