Becoming a 'Warrior': Part 1
By Darcy Phillips
"I would not take back what I suffered to gain this."

~ Suleika Jaouad, Between Two Kingdoms
As difficult as breast cancer was, it brought some wonderful gifts into my life: a renewed sense of putting myself first instead of last, a whole new group of friends I would never have met otherwise, and a bucket list.
On that bucket list? Get into the best shape of my life. I didn't know how I would do that exactly, just that I needed to. Five years went by, during which the pandemic hit. I made banana bread like everyone else. I went through menopause. I was released from oncology. I was not in the best shape of my life, not by any stretch.
Enter "Evoke Warriors," a six-month cancer rehab program including fitness, nutrition, fellowship, and a big reveal at the end to our family and friends. I applied and anxiously awaited my interview. I hovered between worrying about whether I would get accepted and worrying about whether I would not get accepted. I knew I needed this, but it also scared me a little.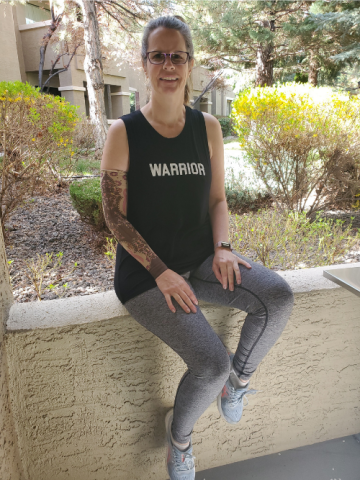 The program commitment is extensive: five to six days a week of cardio on our own, plus starting with two days a week in class at Evoke Fitness, soon to grow to four days a week.
"It's pretty much a part-time job," Evoke Warrior/Evoke Fitness Founder Mena Spodobalski told us during the informational meeting. In addition to exercising, we would be expected to follow a healthy diet, cutting out all processed foods, dairy, sugar, and red meat.
I interviewed with a team of six trainers, nutrition coaches, and past participants. I shared how cancer took me down a rabbit hole of further issues, including frozen shoulder, mild lymphedema, and complex regional pain syndrome -- which rendered my shoulder, arm, and hand useless for nearly a year before I found the right medication to control the horrific pain. I talked about my new job at the Nevada Cancer Coalition and how I hoped to bring a different perspective to my position.
I did not cry, but I admitted I likely would at many points along this journey if I made it through the selection process.
A few days later I received the call that I had been accepted into the program, along with 21 other soon-to-be new friends. We went to orientation on a Saturday morning in March, during which we introduced ourselves, shared our diagnoses, and learned about the program and what would be expected of us.
We took pictures of our "before" bodies, many of us stripping down to sports bras so we could really see everything. We weighed in and did a body analysis. On the table during lunch were pieces of candy and cookies. "Is this a test?" I asked jokingly. I ate a piece. I also had a milkshake that night, the last for a while, if not forever.
Monday morning at 6 a.m. came way too early. That's for next time, though.