Becoming a 'Warrior', Part 3: The Gift that Keeps on Giving
By Darcy Phillips
This is part of an ongoing series featuring Darcy and her experience as an Evoke Warrior, training in a cancer rehabilitation fitness program. Read part 1 here and part 2 here.
The Evoke Warriors program is almost two months in at this point. Things have been going well – working out at the gym a few times a week and doing lots of cardio on my own. I used to work a very active job where I would easily get 10,000 steps in a day, but now I often find myself having that by 9 a.m. Our fearless gym leader wasn't kidding when she said this would be like a part-time job.
The last two weeks, however, have been challenging. Cancer, for me at least, has made me even more in tune with my own body, but I also worry more about this body of mine. The details aren't important, but I've seen more medical professionals in the last few weeks than in the last few years. Most of this is entirely unrelated to the Warriors program, but it all culminated last week in several days of significant pain that was definitely exacerbated by the workouts. After days on the road for work, I returned and had to do two very intense workouts within 12 hours because I had missed so much of the rest of the week.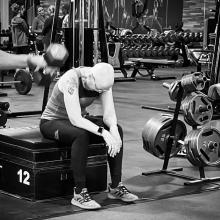 Ultimately, all of this reminded me about balance – important for anyone, but most especially for cancer survivors. In a world where we all tend to overdo, cancer forces us to slow down, take stock, and take care. This isn't altogether a bad thing, but for me, it takes on a different level of needing to know my own body and what it can and can't do. I knew when I woke up at 5 a.m. last Friday morning that I probably shouldn't work out that day, but I did, and I paid for it dearly.
I am also one to try to keep up with the crowd, which isn't always the best path. While everyone in the Warriors program is going through different challenges, the only thing that should affect my performance is my own challenges. I don't want to take the easy path, but it's also very important that I know my limits and respect them. "Pushing through the pain" is not a smart road for me as I risk spreading my nerve disorder to other parts of my body, which would be incapacitating. So, I rest - both during and after workouts. I need to listen to the pain and respond accordingly.
Cancer is the gift that keeps on giving. Truly. So many of us live with long-term effects from chemo, radiation, surgeries, transplants, and the like. Add to that various iterations of post-traumatic stress, and it seems as though even in remission, cancer is always on the edges of our lives in some way. For me, it's in the form of chronic pain and fear. During these last two weeks I had a lump under my other arm that presented with discomfort. Going in for that diagnostic mammogram just brought everything rushing back in, remembering those days when I was first diagnosed six years ago. The relief I felt when the radiologist said it was nothing was palpable.
We all use the hashtag "#fucancer" a lot, and we say it too. But as someone said to me recently, cancer just doesn't listen. So we need to hear what cancer speaks to us, in the best ways we can.