Skin cancer awareness: Medical students host free skin cancer clinic
University of Nevada, Reno's Nevada Today reported on a recent skin cancer screening clinic hosted for the school's faculty, staff and students.
By Kaeli Britt / Nevada Today
Lourdes Valdez and Ramneek Dhami, two medical students at the University of Nevada, Reno, hosted a free skin cancer screening clinic open to all University students and personnel in spring of 2022. The clinic was in partnership with the Nevada Cancer Coalition at the Center for Molecular Medicine.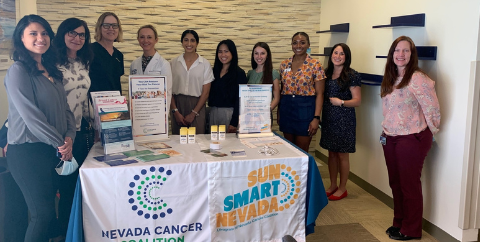 Valdez and Dhami chose to host the event during May, which was Skin Cancer Awareness month, in the hopes of promoting preventative skin cancer measures and healthy sun safety practices.
"It is estimated that, for 2022, there will be 770 new cases of melanoma diagnosed in Reno," Valdez said. "As medical students and Nevadans, we feel a passion for community engagement in regard to skin cancer awareness as Reno has 252 sunny days and is at an increased elevation, which places our local community members at a greater risk of contracting skin cancer."
Valdez is passionate about bringing skin cancer awareness to people of color, especially in a place that is exposed to high levels of year-round sunlight.
"As a Mexican-American citizen with darker skin, I thought that my pigmentation would protect me from the harmful rays of the sun that caused skin cancer. I never received any formal education growing up regarding this topic, especially for people who looked like me," Valdez said. "Thus, as a child, I would hardly ever wear sunscreen, and now, as an adult, that's one of my biggest regrets and one of the reasons that I'm so passionate about skin cancer awareness."