Fitness Center Program More Than Just Muscle Building
"It is the best thing you will ever do for yourself. And the trainers—they are amazing. They are just great no matter what type of cancer you have. They're just great! It's a huge resource."
"A lot of it is recuperative care rather than just muscle building."
These are just a few of the comments shared with NCC during our survivor focus groups, each praising the Cancer Rehabilitation Program at the Saint Mary's Fitness Center in Reno. More than just a cardio or weights regimen, the program has two phases of rehab that focus on both recovery from cancer treatment and its side effects, as well as promotion of exercise and overall health. (At NCC we've also heard from participants that it's a great place to form personal connections with other survivors and build a stronger network of support.)
According to the National Comprehensive Cancer Network (NCCN), maintaining overall health and staying physically active during and after cancer treatment can enhance physical well-being and spur recovery. Research shows that moderate aerobic exercise along with light weights or strength training has found no harmful effects for cancer patients, and in fact is shown to reduce fatigue, control weight, and restore strength and flexibility which may be compromised by various surgeries and treatments. Further, likelihood of recurrence of some cancers may be reduced by losing weight.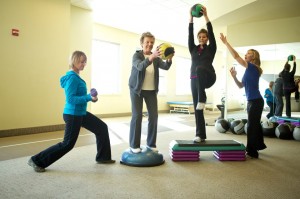 A collaboration between the Fitness Center, Outpatient Rehabilitation Therapy team, and Center for Cancer, all at Saint Mary's, the Cancer Rehabilitation Program offers physical rehabilitation designed specifically for cancer patients and survivors. Phase one of the program starts with a medical rehabilitation focus that's largely covered by insurance. Physical, occupational, and speech therapists treat and educate patients on cancer's effects and treatment side-effects. They can work on a variety of issues, including range of motion, balance deficits, fatigue, lymphedema management and prevention, and speech deficits and swallowing issues.
The second phase of the program, not currently covered by insurance, includes an individualized exercise program developed after a fitness evaluation. The exercise program can take place in a group setting or one-on-one, and includes membership in the entire fitness center. In addition to the fitness floor, complete with two-lane indoor walking track, the facility includes an indoor saline lap pool, Jacuzzi, sauna, and steam rooms.
Recognizing the value of fitness and physical rehabilitation during and after cancer treatment, several organizations have partnered with the fitness center to provide scholarships for those who can benefit from the program but are unable to afford it.
For more information visit www.SaintMarysFitness.com or call 775-954-0185.