Musings, experiences from a young doctor and dermatology resident
Dr. Anita Savell is a first-year dermatology resident at the University of California, Davis. Dermatology requires three years of specialty specific training for graduation, in addition to an intern year of study, which Dr. Savell completed at Wellstar Kennestone Hospital in Marietta, GA. She is a graduate of UNR School of Medicine, and frequently volunteered with NCC's Sun Smart Nevada and Sun Smart Schools programs during her studies there.
By Anita Savell, M.D.
Intern year was ROUGH. Lots of early, long, and late hours. A lot of learning happens during those long hours, but I feel like a lot of missing out on life does, too.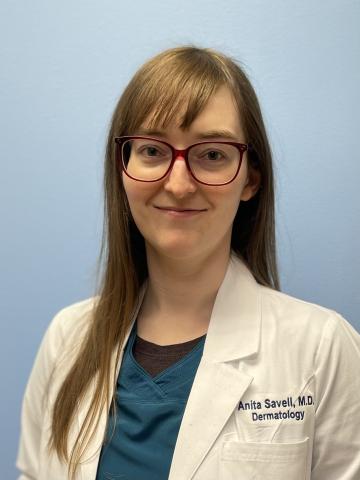 One really memorable experience during intern year while working inpatient in hospital medicine was a patient who was newly added to my team's list the day of his anticipated discharge. I go to see this patient and he doesn't talk to me when I speak to him, but I see he has a bad tremor when participating in my physical exam. He ends up answering my first question a few minutes later when I am almost walking out the door.
It is clear to me that this man has Parkinson's Disease. I look through his chart to see if I missed it, but I see no prior mention anywhere of Parkinson's or of Parkinson's medications. Speaking with his family, it turns out he has had the symptoms for several years, they aren't sure what is causing it, and the symptoms have been getting worse. My attending physician and I decide to bring neurology on to the case. Sure enough, they agree — Parkinson's disease. The patient was started on medications that will hopefully give him back some functionality and his family finally had a name for his condition.  
Another memorable time was nights in the ICU. On the spectrum of medicine, I believe those nights were the farthest I will ever be from my day to day in dermatology. But those are stories for another time.
Dermatology residency has been even more challenging than I expected. I knew that there would be a lot of reading at home, but I had no idea how much. We read multiple chapters each week of very dense material. Some see Year 1 of dermatology as an exposure to material so that when something unusual appears in clinic or on hospital consults, you at least have a familiarity with it. Practicing dermatology will require a lifetime commitment to learning.
One memorable encounter in my first year of dermatology residency was when I biopsied all three of the most common skin cancer types on one patient in the same day. Who would have expected to find all three cancers on one person in one day? But apparently it happens more often than you'd think. I was so glad we could make such a difference for that patient by identifying their cancers early and getting them treated. The experience also showed me that my clinical skills are sharpening — even through the harder days. 
Another really interesting thing about dermatology that I didn't at first realize is the fact that it is so very intertwined with pathology and what we see under the microscope. You look at a patient clinically and can see things about their lesion — let's say it is darker on one edge. Then you look with your dermatoscope and you see that it has large pigment globules only on that darker edge. Then you look at the microscope slide and you can actually see the nests of melanocytes that were giving that clinical and dermatoscopic appearance. After a while you can review pathology slides and start to visualize what the clinical lesion would look like, and vice versa.
Over the last several years, I have gone from encouraging people to practice sun safety through volunteer work with the Nevada Cancer Coalition, to diagnosing and treating skin cancers myself. Residency has been fascinating and enriching, and I'm so excited about what is ahead.
(Editor's note: Dr. Savell graduated Summa Cum Laude with a degree in Electrical Engineering from UNR and as the 2017 Herz Gold Medalist. She is a graduate of UNR Medical School, so we know her patients are in good hands!)