National Breast & Cervical Cancer Early Detection Program Celebrates 23 Years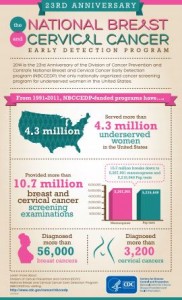 23rd Anniversary. It's a bit of an odd milestone to celebrate, when compared to the more rounded numbers 20 or 25. But in this era of healthcare reform and economic fluctuation, it's a great time to take a look at the only nationally organized cancer screening program for underserved women.
The National Breast & Cervical Cancer Early Detection Program (NBCCEDP), operated as Women's Health Connection (WHC) in Nevada, has made strides in reaching uninsured and underinsured women to educate them on the importance of breast and cervical cancer screening, and in turn actually screening them. For a snapshot of this CDC program's work over the past 23 years, take a look at this infographic.
A series of new documents on the program, 13 to be exact, has also recently been released. They include discussion starting from the program's implementation to successes in service delivery and follow-up, partnerships, use of data to effectively manage the program and increase reach, quality control, education and outreach, and the impacts of health reform. All of the documents are available here.
For more information on the Women's Health Connection program in Nevada, administered by Access to Healthcare Network, click here.