Volunteers, partners the backbone of Sun Smart programs
NCC's Sun Smart Nevada and its youth component Sun Smart Schools are two sure ways partner collaboration and volunteer support are helping create healthier communities across Nevada. The programs work to build a culture of sun safety for all Nevadans while promoting healthy outdoor activity.
Sun Smart Nevada thrives because of the commitment of essential volunteers. From updating school contacts, to compiling teacher and student educational materials, to teaching students or representing NCC at an outreach event, volunteers help NCC spread the Sun Smart message statewide.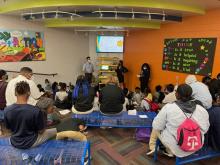 Through partnership with University of Nevada, Reno and University of Nevada, Las Vegas, medical students are teaching students in northern and southern Nevada about sun safety. The presentations give young learners a chance to learn from community members and give medical students valuable experience in public health outreach.
Partnerships with businesses and the cancer care community have placed automatic sunscreen dispensers in dozens of schools and public places statewide.
If you can volunteer your time, contact Christine@NevadaCancerCoalition.org, and she'll put you to work! Or, contact NCC if you'd like to get your business or community involved.