Patient Navigation Request Received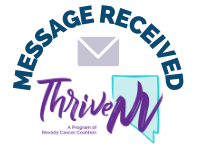 Thank you for your request for navigation services from ThriveNV.
A navigator will review your request and be in touch within 2-3 business days.

In the meantime, we ask that you complete the required patient navigation consent form in order to provide this free service.
Please download the attached PDF form, read, sign, and submit. 

Thank you again for contacting Nevada Cancer Coalition's ThriveNV Patient Navigation program. We look forward to assisting you.