It was a regular morning in April 2016. I woke up and was getting ready for the day when my hand unexplainably went to my left breast. I had very dense breast tissue, so I was accustomed to the random lumps, but this lump felt oddly different.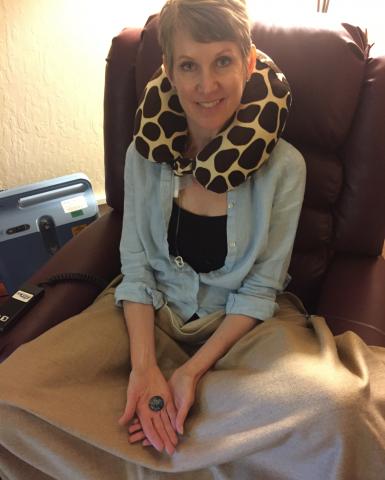 I called my gynecologist and she had me come to her office with my husband. She said that while she couldn't be sure by exam alone, she felt that it could be cancer and I was sent for a mammogram. They could not see the tumor on the mammogram, but the technician could feel it, so I immediately had an ultrasound.
The ultrasound clearly showed the tumor and I started learning cancer nomenclature that day as I was given a BI-RADS score of 5, which I learned meant there was a high probability of malignancy. From there I had the biopsy which confirmed that I had HER2+ breast cancer.
I received my results while visiting my daughter who lives out of town. While I was away, I received many calls from my doctors and was set to see them upon my return home. I figured that we had caught it early and no one seemed overly concerned so I enjoyed the rest of my time away and, at my doctor's request, stayed away from the internet.
Upon returning home, my husband and I saw the surgeon and from there things moved at warp speed. Within a week, I met my oncologist and plastic surgeon. I had a myriad of tests done while trying to plan for a port placement, speaking to my employer, and readying myself and family for the fact that I would promptly be starting chemotherapy.
I had a full-time job, was teaching a course for HR professionals, and working on obtaining my masters degree. It all stopped in a matter of days as I became a patient and tried to learn everything I could about my treatment and what to expect. Once treatment started, I met the most amazing group of people in the oncology room. We became coconspirators in the fight for our lives and we all had the same goal.
We shared stores, pictures, and watched movies together, and yes, we even laughed. I always believed I would make it to the other side of the journey through cancer. I was healthy before I was diagnosed, I had a talented group of doctors, and my tribe was there for me in ways I could never have imagined always cheering me on.
In the end I decided to have a bilateral mastectomy and was thrilled when the pathology came back showing the area of necrosis where the tumor had been, meaning the chemo and immunotherapy did their jobs. There was still a lot of recovery and additional surgeries, but I made it through. Stronger, more resilient, and so grateful for this lovely life.
If you are reading this and facing a cancer diagnosis or caring for someone who is undergoing cancer treatment, please know our bodies are strong and resilient. I believe that what helped me was knowing there were people cheering for me, eating well, drinking a lot of water, thinking positive thoughts, journaling, enjoying the days when I felt good, resting when I didn't, asking questions when I was unsure of what was happening, and meditation.
I wish for the day that we find a cure for breast cancer. Until then, do your self-exam and have a regular mammogram. Don't be afraid, be proactive.
I wish for the day that we find a cure for breast cancer. Until then, do your self-exam and have a regular mammogram. Don't be afraid, be proactive.