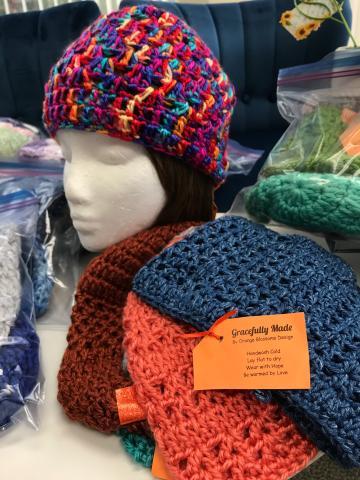 We were blessed this week to receive a donation of handmade crochet beanies from Gracefully Made Crochet, a local artist who makes and donates the hats to cancer patients and homeless shelters.
First off, they are beautiful! We are thrilled to have these available for members of our ThriveNV community. If you or someone you love would like one, please let us know.
Now, the truly touching part of the story.
Rayna is the heart behind Gracefully Made. She said she began making the hats in honor of her friend Grace, who passed from cancer in 2020. Her story, from the @GracefullyMadeCrochet account on Instagram, is heartfelt and powerful. An excerpt:
"We lost Gracie to cancer in June of 2020. In the middle of a global pandemic. There was a walk by wake, where I had 10 minutes to say goodbye. Doesn't seem fair. One minute she is my forever friend and the next minute she is gone.

"Grief. The Oxford dictionary describes grief as a noun. A singular emotion; a singular entity. Medical experts describe grief as a process. A process that gives you time to get through all of the emotions that go along with grief - anger, sadness, guilt, anxiety, despair. Thus, allowing you the space 'to grieve.' But this definition, to me, suggests that the process is finite - that there is somehow an end to all of this.

"But anyone who has grieved knows that it doesn't actually end. The pain and the sorrow get better, I suppose. But it never actually goes away. It come in waves, triggered by memories or, in this case, news of cancer amongst other loved ones."
Rayna said she makes the beanies to channel her grief, and to date has donated more than 200 beanies and shared more than 100 patterns on her website and Instagram. She uses yarns and practices as recommended by Knots of Love, a national nonprofit.
Thank you Rayna for your generous donation!