Thrive Kitchen: When you really just want pizza
It's National Pizza Day (February 9), so rather than diving into our planned meal—sharing why lots of fruits and veggies are great nutrition—we're calling for takeout, so to speak.
Pizza is one of those dishes that is endlessly customizable and, for many people, a big slice of comfort. It's also pretty quick to prepare with store-bought crust or quick to order. Some versions, however, are healthier than others.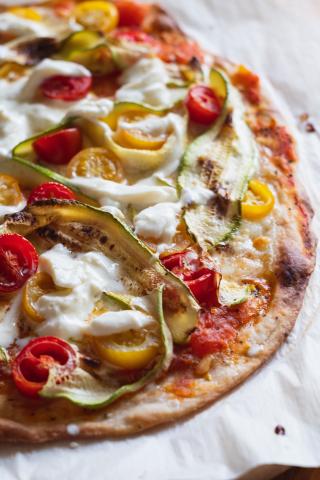 Today, we present to you our Thrive Kitchen tips for pizza that is good for your heart, soul, and body.
Rethink your crust. You can add both fiber, protein, or both to your crust by swapping in whole-grain crust or a dough alternative, such as cauliflower. If purchasing a pre-made crust, be sure to check the nutrition label to see if it's truly a good swap. Some prepared crusts may have more fat or sodium than regular crust, and added ingredients you may be trying to avoid.
Scale back on the cheese or opt for lower fat versions. If you're like us, loading up on veggies as a pizza topping means we don't need as much cheese to feel satisfied. Try reducing the amount of cheese on your pie, or using part-skim mozzarella or lower-fat hard cheeses such as parmesan or asiago (both of which add great flavor).
Like we said, load up on veggies. Pizza is one of those meals where you can toss on any combination of veggies to add color, flavor, texture and nutrition. There's all the traditional veggies—tomatoes, olives, peppers, mushrooms, onions—and the less traditional—corn, arugula, broccoli, or even sweet potatoes.
Stick to lean meats, or skip the meats altogether. We know that processed meats such as pepperoni, sausage, and salami can contribute to colon cancer, and often don't make us feel great after eating them. Stick to lean meats such as chicken, turkey, or even crab or shrimp. Or, check out a one of the many new meat alternatives and season it up for a cheeseburger pizza or new take on sausage pizza.
Make your own sauce. Some store-bought pizza sauces have more added sugar and salt than you might realize, which isn't great when you're minding your health. Try making your own sauce at home with chopped tomatoes, tomato sauce and fresh or dried herbs.
Amp your flavor and get creative! Use your pizza making experience as a creative release and layer on the flavors. Some things to try: chives, ricotta cheese, figs and caramelized onions, zucchini and fennel. The sky is the limit!