Becoming a Warrior: The Big Reveal
By Darcy Phillips
This is part of an ongoing series featuring Darcy and her experience as an Evoke Warrior, training in a cancer rehabilitation fitness program. Read part 1 here, part 2 here, part 3, and part 4 here.
The Evoke Warriors program wrapped up with a big reveal extravaganza event. It was everything one could want – a chance to share our stories, and then strut our stuff down a runway and across a stage with everyone receiving a standing ovation. It was happy-sad, bittersweet, and altogether a lovely evening full of tears, cheers, and accolades.
We worked hard, no doubt about it. This program was incredibly physically difficult – at least for me. I struggled with injuries, illness, and pain throughout. I spent the last month and a half of the program in a walking boot with a significant injury (that did not happen at the gym), and I was out of town – then sick – for the last three weeks, so I felt a little like I didn't really finish.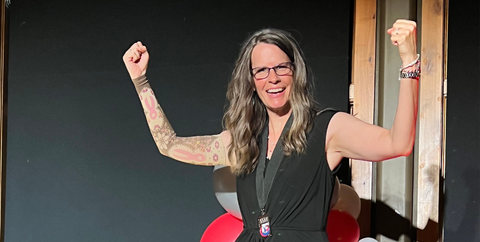 Ultimately, what I wanted was a jump start to get back into shape and I got that. I still have more goals to reach, and I will get there on my own.
What really impacted me at the reveal, however, was everyone else's stories. I am not the person who is super comfortable in a group setting, so I tend to be pretty quiet in those situations.
For much of the program, I was also dealing with some difficult issues with my special needs child that exhausted me on an emotional level and made me feel not fully present. All of that coupled with the fact that quite honestly, I really had to focus to just get through the workouts because I found them so challenging, made it such that I never felt like I got to know my fellow warriors very well, nor they me.
I knew the basics of their stories, but I had little one-on-one interaction with most of the other warriors. Watching their reveal interviews both warmed and broke my heart. Cancer is a wicked thing. It brings so many gifts – like this program and a whole bunch of people I never would have met otherwise – but it steals so much from us and those that love us.
My fellow warriors' stories were raw and real, just like they all are. I'm grateful to have met them, and I can't thank Mena Spodobalski (our fearless leader) as well as the team and sponsors at Evoke Warriors enough for the chance to participate.